As death toll climbs in Louisiana flooding, Obama officials urge no race, color discrimination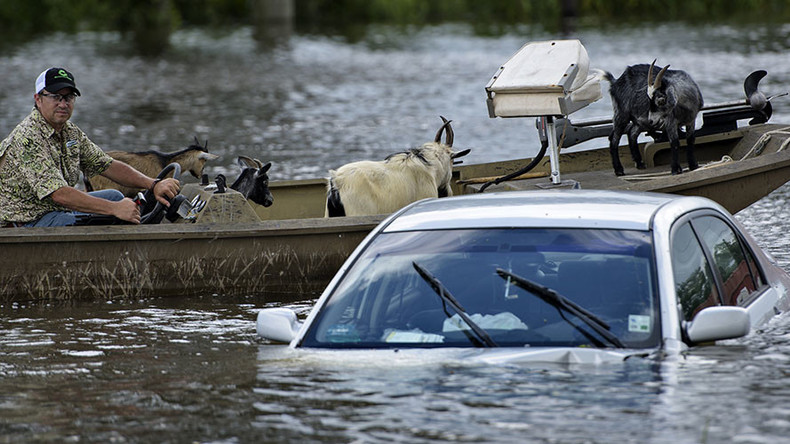 With torrential rains and fatal flooding battering parts of the southern US, the Obama administration has urged affected states to abstain from discrimination and provide emergency aid, regardless of race, color and origin.
"Discrimination has no place in the disaster response and recovery process," Director Willisa Donald of the Federal Emergency Management Agency (FEMA) said.
A 16-page "guidance" memo released Tuesday recalled cases of African-Americans being discriminated against while looking for help in the aftermath of Hurricanes Katrina and Rita in 2005.
"In the days after Hurricane Katrina made landfall, numerous media reports showed images of African Americans stranded on roofs in New Orleans. These images exposed significant inequalities in access to emergency response and recovery efforts," said the guidelines issued jointly by the Departments of Justice, Health and Human Services, Housing and Urban Development, Homeland Security and Transportation.
As America's south relives another devastating weather disaster 11 years later, the Obama administration seeks to "ensure" that people of every race, color or nation "do not face unlawful discrimination" again.
Yet, officials noted, disasters that have hit the US in recent years revealed problems of how communities of color and other populations are denied vital services and programs during recovery efforts, beyond just hurricanes.
The memo is aimed at reminding local authorities in states across the US that Title VI of the Civil Rights Act of 1964 prohibits discrimination in federally funded programs or activities and requires every person affected by national emergencies be treated equally.
"Our guidance reminds recipients that Title VI compliance obligations are not up for debate," said Director Leslie Proll of the Departmental Office of Civil Rights for the Department of Transportation. "It applies at all times and cannot be waived before, during, or in the aftermath of emergencies and disasters."
The directive is also a reminder that federal assistance programs must provide resources equally to all who are affected by a natural disaster, regardless their immigration status.
"A person's immigration status generally does not prevent access to critical emergency related information and resources," it said.
It may also be illegal for officials to ask for "additional verification" from people based on their appearance, name, accent, limited English proficiency, or suspected immigration status.
Southeastern Louisiana continues to deal with the fallout of "1,000-year" rain that has claimed at least 11 lives. At least 40,000 homes have damaged while more than 30,000 people have been rescued since Friday.
President Barack Obama announced that flooded areas in Louisiana are eligible for federal disaster aid. The amount of parishes in the state that can apply for such aid increased from four to 12, and additional parishes may be added to the list.