New York City set to ban use of fracking waste water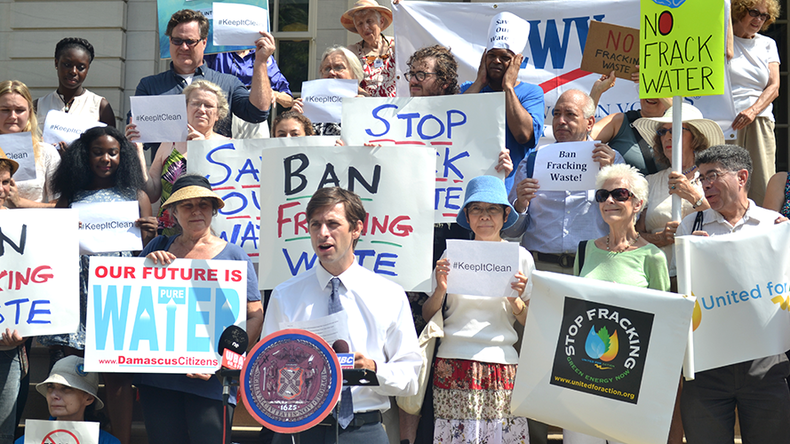 New York City lawmakers have approved a new bill to ban the usage of waste water from high-volume hydrofracking on icy roads. A by-product of the procedure is billions of gallons of water laced with chemicals, including benzene – a known carcinogen.
The bill would ban the use of fracked waste water on roads within the city. Its high brine content means that it has been deployed in icy conditions.
The bill passed in a City Council vote on Tuesday, 44 'yes' votes to one 'no' vote, with six abstaining. It will now go before the Mayor for signature. He has 90 days to deliberate before it automatically goes into law. Sponsors of the bill are confident Mayor Bill de Blasio will sign.
New York State banned high-volume hydrofracking for natural gas in 2015 citing public health and environmental concerns. But the state does permit the use of conventional vertical techniques for oil and gas extraction which creates waste water. New York State Department of Environmental Conservation permits the use of waste water for road treatment.
The bill, introduced by Brooklyn City Councilman, Stephen Levin (D), would amend a local law to ban the use of such waste water within the five boroughs. As the state also shares a border with Pennsylvania which has permitted high-volume hydrofracking and created gallons of waste, it extends to banning fracking waste.
Councilman Levin told RT waste disposal has been a challenge for a lot of fracking companies.
"One [method] that has been applied is using it for salinating roads, de-icing roads. That's a significant danger because there are plenty of times, when it is a particularly bad winter, there can be shortages of salt, we don't want there ever to be an opportunity for any of this material to get into that supply of salt on our streets," Levin told RT.
The waste water has also been used to stabilize roads and suppress dust. New York State, so far, has not passed a law banning the use of fracking waste which is why city lawmakers are stepping in.
"We also don't want it to be deposed of any where in New York City where it is dumped in landfills or put through our waste water treatment facilities which then go back to into our ambient waterways, the East River, the Hudson River, Jamaica Bay, the ocean. We want to make sure there is no chance that a private company will haul their fracking waste byproduct from a state like Pennsylvania to the city of New York and dump it in our waste stream," Levin added.
Other counties and cities in New York State have already taken similar action to those proposed by Councilman Levin.
Under the bill non-compliance could see fines as high as $25,000, and the definition of waste goes beyond waste from natural gas extraction activities but includes all forms of oil and natural gas waste, including waste from oil and natural gas storage.
In June, the US Environmental Protection Agency banned the disposal of hydraulic fracking waste water at public sewage plants. The rule is designed to prevent the entry into public water systems of contaminants such as heavy metals, chemical additives and high concentrations of salt associated with fracking, and which public water systems are typically not equipped to treat.
Most energy companies stopped sending fracking waste to public treatment plants in 2011 but compliance was not 100 percent. Since then companies have found other ways of disposing of the waste water including industrial treatment plants, underground injection wells and recycling.
"It's important that EPA put this protection in place prior to what are extremely likely future gas rushes in Pennsylvania," Myron Armowitt, Pennsylvania Director for environmental group Clean Water Action told NPR in June. "We still have only drilled about 10-15 percent of what is expected for the Marcellus and that is not even considering the Utica."
The American Petroleum Institute criticized the new rule. Its spokeswoman Sabrina Fang said that it cuts off a potentially safe source for future waste disposal.
"This rule constitutes the permanent removal of an option that has the potential, with improved technology, to become a valuable tool for recycling treated water and returning this important resource to the hydrologic cycle," wrote Fang in an email to NPR.
The EPA said fracking waste water contains contaminants such organic and inorganic chemicals, naturally occurring radioactive material, all of which can be harmful to human health.