No more Mr. Nice Trump: Candidate shuffles campaign, hires Breitbart exec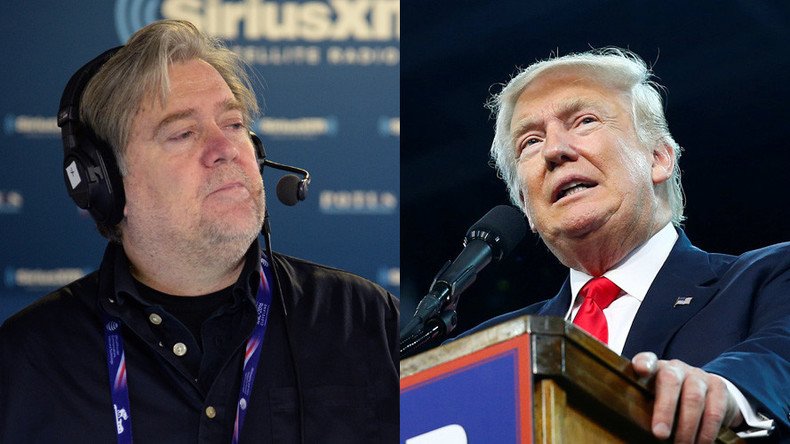 Donald Trump is going back to his old ways, hiring the head of Breitbart News as the new campaign CEO and sidelining establishment voices that have tried to moderate his message and image.
Attempts by campaign chair Paul Manafort to rein in Trump's rhetoric and have him read more from the teleprompter may have resonated with the Republican consultant class, but haven't had much of an effect on the polls – the news media took every opportunity to savage the candidate.
READ MORE: Media salivates over Trump gaffes, fueling speculation of 'imploding' campaign

On Wednesday, the Trump campaign announced that pollster Kellyanne Conway will be taking over as manager, keeping Manafort on "as Campaign Chairman and Chief Strategist." Breitbart News head Stephen K. Bannon will be the campaign's new chief executive officer "in a new position designed to bolster the business-like approach."
"I am committed to doing whatever it takes to win this election, and ultimately become President because our country cannot afford four more years of the failed Obama-Clinton policies which have endangered our financial and physical security," Trump said in the announcement.
Manafort himself praised Bannon and Conway in the statement, saying, "Steve and Kellyanne are respected professionals who believe in Mr. Trump and his message and will undoubtedly help take the campaign to new levels of success."
While there has been little reaction to Conway's appointment just yet, Trump's critics have pounced on the hiring of Bannon. CNN Money called him a "a Goldman Sachs investment banker turned conservative media executive," and described Breitbart News as an "attack dog against Hillary Clinton."
Former Obama speechwriter Jon Favreau asked Twitter for "all-time most disgusting/deranged things" Breitbart has published recently.
Glenn Beck, a conservative radio host and a backer of Trump's rival Ted Cruz, recalled his earlier characterization of Bannon as a "horrible despicable human being" and said that the site's founder "Andrew Breitbart is spinning in his grave right now."
Ben Shapiro, a former columnist at Breitbart, tweeted at length from an anti-Bannon article, accusing the site of becoming "Trump Pravda." Shapiro resigned earlier this year, charging Breitbart had "abandoned and undercut" its reporter Michelle Fields, who claimed to have been manhandled by Trump's then-campaign chief Cory Lewandowsky.
Another sworn foe of Trump, Bill Kristol of National Review, said the Trump campaign was descending "even lower into the gutter" by involving Bannon and the recently ousted Fox News chief Roger Ailes.
However, while numerous outlets reported that the Trump campaign was working with Ailes, campaign spokeswoman Hope Hicks dismissed such talk as "not accurate." Trump and Ailes are longtime friends, Hicks said, but Ailes "has no formal or informal role in the campaign."
It seems Bannon, Conway and Manafort may have their work cut out for them, especially if Dilbert cartoonist and astute political observer Scott Adams is correct. Adams told Breitbart recently that the Clinton camp's surge in polls and the targeted attacks on Trump bear the hallmarks of behavioral psychologist Robert Cialdini, a prominent figure in getting Barack Obama elected.
"The Clinton persuasion game went from non-existent, which I reported on for months, to solid-gold, weapons-grade, almost instantly, as soon as Bernie Sanders dropped out," Adams said, adding that he wouldn't be surprised if the person behind the strategy was either Cialdini, or one of his disciples. "His fingerprints are all over this."
You can share this story on social media: