Takes the cake: Woman who drop-kicked birthday cake allegedly hit ice cream worker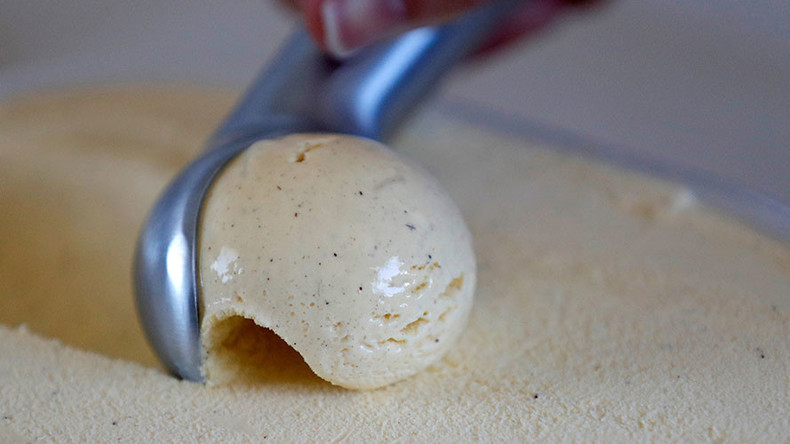 I scream, you scream, we all scream for ice cream – but some people go further. When a Michigan woman learned that her flavor of choice was unavailable at an ice cream shop, she reportedly responded by pummeling the employee.
Everyone has pet peeves and triggers for irrational anger, but apparently Tricia Ann Kortes is set off by desserts.
Kortes is presently making the news after assaulting an employee of a Royal Oak ice cream parlor. However, she had an existing history involving a confectionary-related episode: She was already known for drop-kicking a cake at a Kroger's employee.
Kortes' was identified this year after assaulting an employee at Ray's Ice Cream on July 9, 2015, and is now facing a civil lawsuit. Her tantrum was in reaction to learning that the store was out of the Mackinac Island Fudge flavor.
She first became belligerent, and other customers urged her to leave, WXYZ reported. That was when she allegedly leaned over the counter and hit the shift manager, Linda Waller.
"I think she was wearing a ring because she scratched my head," Wallner told WXYZ.
Kortes is facing one count of assault and battery.
This was only one of her dessert-induced rages. In June of last year, she was issued a ticket to appear in court after dropkicking a Batman vs. Superman themed cake at Kroger employees.
That outburst began when there was an alleged error on the cake, and she attempted to go behind the bakery counter to fix it herself. She was not allowed to do so for a multitude of reasons, such as food handling issues, company policy and other things that shouldn't need to be explained.
Instead of fixing it herself, she decided to drop kick it like a soccer ball.
"We're told pieces of cake were then everywhere in the bakery store," WXYZ reported.
Witnesses told police that she threw the cake on the ground and screamed, "They f***ing ruined my seven-year-old's birthday cake!"
She also kicked a wet floor sign on her way out. The sign probably had to be moved for the cake cleanup, anyway.
To her credit, Kortes claimed she did not kick the cake but that it fell out of her hand.
Unsurprisingly, Kortes has a history of assault and battery charges.
Defense attorney Gerald Gleeson told WXYZ, "It appears that this matter has been blown out of proportion, and we look forward to resolving the matter at the appropriate time. And in the interim period, we are seeking counseling."