'Beyond property damage': Milwaukee curfew, calls for restraint bring calmer night (VIDEO)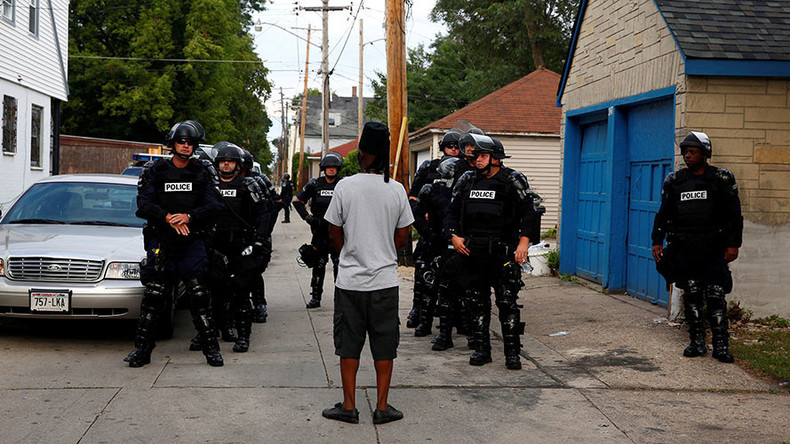 A curfew for teenagers combined with community leaders' call for restraint led to a quieter night in Milwaukee, Wisconsin, following riots sparked by the fatal police shooting of a black man.
Monday night was calmer after the citywide curfew for minors when into effect at 10:00pm. Police said there were 10 arrests, one report of shots fired and no property damage.
"We think we are in, comparatively speaking, a positive place," Milwaukee Police Chief Ed Flynn told reporters as it became apparent the curfew was being followed, according to Reuters. "We had folks from the community step forward to take a leadership role in reducing tensions."
The calm comes after two nights of riots sparked by the fatal police shooting of an armed black man, Sylville Smith, 23 during a chase. Peaceful demonstrations on Saturday afternoon turned into violent protests on Saturday and Sunday nights. Shot were fired and six businesses were burned. Angry crowds pelted riot police with bottles and bricks. Eight offices were wounded, and dozens of people were arrested, according to police.
Milwaukee has become the latest city to be gripped by unrest after high profile police killings of black men over the past two years. It is known as one of the most racially divided US cities, with a black population plagued with higher levels of unemployment that are absent in the mostly white suburbs.
The leader of the Black Panthers in Milwaukee met with the city's Common Council president to press for changes to economic and social issues which are said to be at the root of the social unrest.
Wisconsin State Senator Lena Taylor told RT that the root of the unrest stems from "the disparities that have existed for a long time in our city and people feeling hopeless, people not having access to opportunity."
"I know it just looks like some people just burned up some businesses which is horrible. It is horrible for the business owners and for the individuals that worked there in this community and the effect is going to have for those businesses to be gone," Taylor told RT.
"But we have to go beyond the property damage. We have to figure out what was going on with the human beings that made those choices, and although in our state we are very much on doing things from the correctional perspective we can't police our way out of it," she continued. "This is trauma that is built upon trauma, and trauma and trauma that is not been treated in this community, and that is what is at the root of this. And so what is going to change, I think people really need love and faith. I know that sounds corny."
Taylor was asked what needs to happen first to make the violence stop and show people that thing have a chance of changing from being 'hopeless.'
"I think the first thing we need to do is show people we're re listening, and in addition to that show them there is another way to be heard," Taylor told RT. "We need some jobs, we need investment in this area, not just this particular block but this area where people have been hurting for a long time."
Republican presidential nominee Donald Trump is due to visit the city on Tuesday evening for a previously scheduled televised town hall meeting with Fox News host Sean Hannity, there are concerns about further protests. Trump is also expected to meet with law enforcement officials.