Suspect in murder of NYC imam detained, charged with 2nd degree murder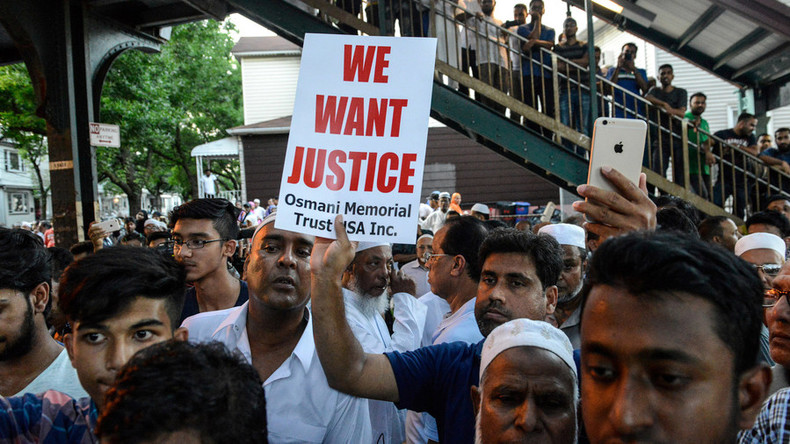 Police have arrested and charged a 35-year-old man with second-degree murder and criminal possession of a weapon, after he allegedly gunned down a New York imam and his assistant over the weekend.
Charges against Oscar Morel, from Brooklyn, were announced after the suspect was questioned by the NYPD following his arrest on charges related to a hit-and-run traffic accident on Saturday, just after the shootings.
New York City Chief of Detectives Robert Boyce told reporters that the NYPD believes that the car used by Morel in the hit and run accident was the same one identified in surveillance-camera footage as having "fled the scene" of the killings.
"We believe because of the evidence we have acquired thus far that … this is the individual," Boyce said, adding that police found a gun and clothes similar to those shown in the camera footage.
The Chief also specified that when officers tried to detain the man on Sunday "he rammed the detectives' car several times in an attempt to get away."
The shooting took place close to the Al-Furqan Jame Masjid mosque in the Ozone Park neighborhood at around 2 pm on Saturday. The 55-year-old imam, Alala Uddin Akongi, and his 64-year-old assistant, Thara Uddin, had been attending afternoon prayers and were in traditional Muslim dress.
A video of the assassination later emerged online showing the suspect opening fire at close distance. The low-quality footage shows that the imam was fatally shot from behind. The suspect is then seen running away from the crime scene.
READ MORE: NYC imam & assistant fatally shot near Queens mosque
On Sunday, New York Police Department Deputy Inspector Henry Sautner said that the attacker had been seen fleeing the scene with a gun. Police later released a sketch of the alleged shooter.
After a preliminary investigation, police said they believed that a lone gunman shot the two men during a robbery, according to NBC 4 New York. An NYPD spokesman said they didn't believe the victims had been targeted for being Muslim.
Dozens of angry Muslim men gathered at the murder scene after the attack. Khairul Islam, a local resident, told the New York Daily News: "That's not what America is about, we blame Donald Trump for this ... Trump and his drama has created Islamophobia."