'We will get out alive or dead': Migrant moms on hunger strike in US family detention center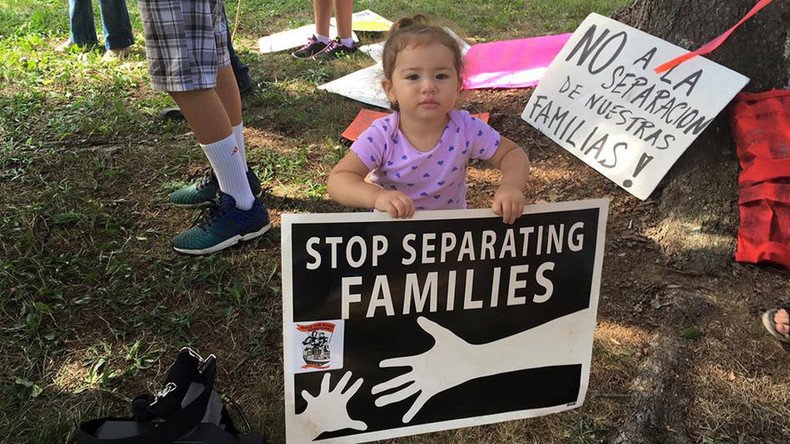 Twenty-two women have gone on a hunger strike to draw attention to their "confinement" with their children. While Homeland Security says migrants are never held for more than 20 days, some have spent over a year in the Pennsylvania detention center.
"What we've been doing is ensuring the average length of stay at [family detention] facilities is 20 days or less. And we're meeting that standard," Homeland Security Secretary Jeh Johnson said last week, sparking an outcry from the women being held in Berks County Detention Center in Philadelphia.
"The Immigration Department has made a public announcement stating that in family detention center parents and children are detained no longer than 20 days. We want to disprove this information!" the women stated in an open letter to Homeland Security.
"We are 22 mothers who are detained at Berks Family Residential Center being mothers who have been from 270 days to 365 days… We are calling on the government to take action on this matter and open their eyes, letting them know that Immigration is acting against the law and is mocking them, making arguments that are false," the letter stressed.
The women, who come mostly from Central America, are being detained pending court decisions on whether they should be deported. The women said they fear that their children's health, both mental and physical, will suffer as a result of their long confinement, as they have refused to eat and been depressed, with some even having "thought about suicide."
"They grab [the cords of] their ID cards and tighten them around their necks and say they are going to kill themselves if they don't get out," the letter states," the letter states.
The mothers are urging the authorities to at least adhere to the Flores Agreement – a 1997 act that governs the standards for the detention and treatment of minors in immigration custody. They demand that "juveniles be released from custody without unnecessary delay" to those who are ready to take care of them. The Berks mothers claim that all of their children have relatives in the States who are ready to help out.
"We have children ages 2 to 16 years old, [deprived] of having a normal life… They ask us if we have the courage to escape. We are desperate, and have decided that we will get out alive or dead," the mothers write.
The protest has drawn the attention of human rights groups, with New York based Human Rights First calling on the Obama administration to "end its policy of detaining women and children seeking US protection."
"The Obama Administration's detention of families has had severely traumatizing effects on both children and their mothers," said Olga Byrn of Human Rights First, who has been to Berks several times. "Even a few days in detention can be harmful to the health of children. Some of these mothers and children have been held in US immigration detention for over one year now. This approach is not only devastating to children, it is also a shocking waste of government resources," Byrn pointed out.
Another human rights watchdog, Unitarian Universalist Service Committee (UUSC), has posted an online invitation asking readers to send the striking women a letter of support on ActionSprout.
There have also been protests outside the facility, with relatives and friends of the detained "Madres Berks," as well as those concerned with their fates, demanding their immediate release.
A total of 32 women are currently being housed at the Berks center, according to philly.com. Berks' license was revoked in February of this year by Philadelphia authorities due to reports of "numerous human rights abuses, including a rape by a guard, labor abuses, and medical neglect of the families and children," but the center has been allowed to keep operating during an appeals process.
Berks is technically considered an "unsecured" detention center, meaning those detained there could technically leave if they chose to. Yet, without proper documents, they would be considered fugitives after leaving the center and be subject to arrest by immigration authorities.
The Obama administration operates two family detention centers in the state of Texas apart from the one in Berks County. All three have been a constant source of allegations of poor treatment and conditions.
You can share this story on social media: