US Border Patrol predicts surge of migrant children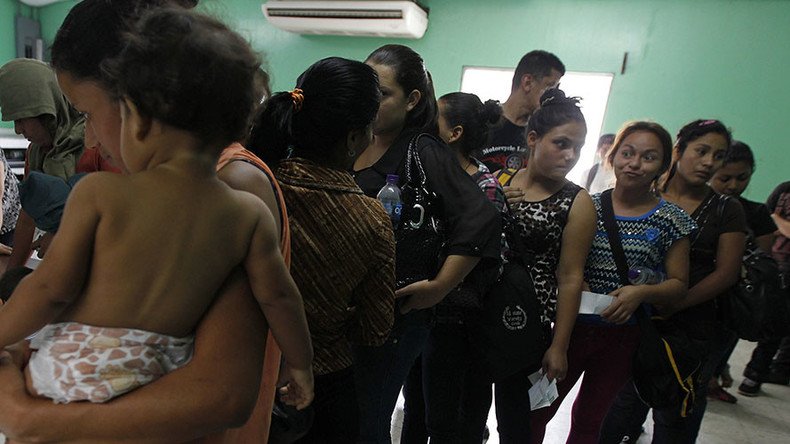 US Customs and Border Protection officials told a House national security subcommittee that they expect an increased surge of migrant children this summer, the timing of which will likely coincide with the Republican and Democratic national conventions.
"As of January 31 this fiscal year, CBP has apprehended more than 20,000 [unaccompanied children], compared to approximately 10,000 apprehended during the same period last year," Ronald Vitiello, acting chief of US Customs and Border Protection, told the House Subcommittee on National Security and Government Operations on Wednesday.
"As we enter the traditional season of higher migration, we are closely monitoring this situation and working with our partners to ensure that resources and capabilities are in place to accommodate an increased number of [unaccompanied children]," Vitiello added.
The "traditional season of higher migration" is also the time when Congress traditionally goes on summer recess, and this year it will be an extended one, from July 15 to September 6. While the 2014 surge provoked a humanitarian crisis and led to a flurry of legislation in response, the first reactions to this year's anticipated wave may be purely political, with the Republican National Convention happening July 18-21 and the Democratic National Convention running July 25-28.
"We are all aware there was a tremendous border surge in FY 2014 and preliminary statistics show that the border surge in the current fiscal year 2016 may exceed that number," Jan Ting, a Temple University Law professor specializing in immigration policy, said at the House hearing. "I think when you have a historic border surge that obviously stresses whatever resources are available at the border … it makes it more likely that security risks can take advantage of that situation and penetrate our border simply riding the tide of high volume of processing that has to occur. Looking at FY 2016, I think a lot of us think we are confronting that situation this year."
The fears for national security raised by Ting just days after the terrorist bombings in Brussels, didn't quite match the description of the border patrol practices that were actually followed during past migrant surges, however.
"My border patrol agents, when they arrest people and they are not from Mexico, all they have to do is claim a 'credible fear,'" Brandon Judd, President of the National Border Patrol Council, told the House hearing. "If they are from a 'special interest country' we notify the FBI immediately. We won't interview those individuals. For instance when we arrested the Pakistanis and Afghanis they were immediately turned over to the FBI."
Judd said if the people were from countries that were not considered "special interest," such as China and Bangladesh, they would have a very short interview as long as they told agents that they had a credible fear of returning home.
"[If] they have a credible fear, the interview basically ends at that point," said Judd.
Ting told the hearing that the US approved 92 percent of the people coming across the border claiming a credible fear in 2013, and 86 percent in 2014.
"If you can claim asylum and you are already here, under our law and international law we cannot return you to your home country," said Ting. "You qualify for asylum discretionary status in the US which can put you on the path to a Green card, and eventually becoming a US citizen. It is very tempting."
Prompted by questions by Representative Gerry Connolly (D-Virginia), the subcommittee heard that under the Obama administration the number of border agents has doubled to 17,500, and that, contrary to depictions often presented by Republicans, the Obama administration has deported more than 400,000 people over the last eight years – an all-time high.
"We are certainly more capable than we were as far as the more agents, the technology, the infrastructure that's now been put in place, and improvements that we've made," CBP's Vitiello Connolly. "We have seen a reduction in arrests."
Congress is not expected to pass any major immigration legislation before the election, but the immigration issue is likely to gain a great deal of attention this summer.
The US Supreme Court announced in January they will take up a case challenging the legality of President Barack Obama's executive actions granting quasi-legal status and work permits to up to 5 million undocumented immigrants that entered the US illegally as children or who have children that are American citizens. The justices are expected to hear arguments in April and hand down its ruling in June.
You can share this story on social media: