'Tossed like rag dolls': 24 sent to hospital after severe turbulence causes emergency landing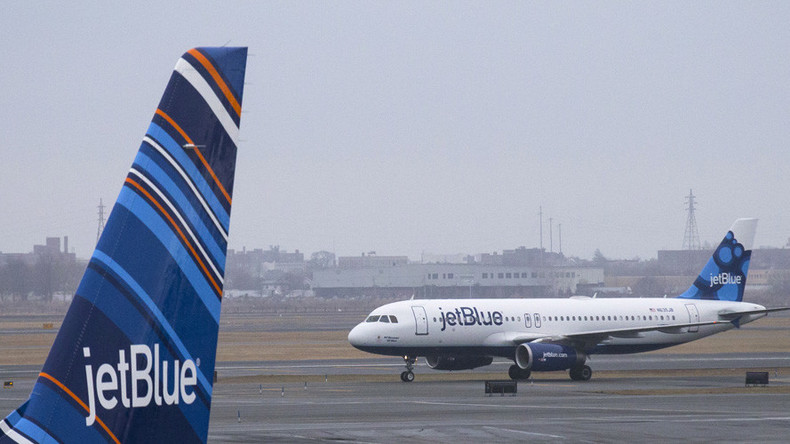 Two dozen people were sent to the hospital for evaluation after severe turbulence caused a cross-country JetBlue plane to be diverted, the airline said. The Boston, Massachusetts to Sacramento, California flight landed in South Dakota.
Passengers aboard Flight 429 described the Airbus 320 aircraft as plunging suddenly, sending people flying.
"It was made very clear by the pilot and flight attendants that we should be seated and buckled in," Alan Lee, a doctor who was on the flight, told NBC News. However, not everyone listened to the crew. "People who didn't buckle their seat belts were flying up and hitting the ceiling."
He told the Boston Globe he was working on his laptop when the plane flew into the turbulence and dropped.
"I don't know how far it dropped, but all I recall is my laptop almost hit the ceiling, several other passengers hit their heads, and a bunch of the overhead bins popped open," he said.
One woman who wasn't wearing a seatbelt flew two feet into the air, passenger Derek Lindahl told CNN.
"I literally grabbed her out of the air to hold her to the seat," he said.
Rhonda Lynam said the turbulence was "like a bad dream."
"People were floating," she told ABC News. "All of a sudden, it was as if you're on an elevator, 50 stories high, and it goes out of control. Then you hit the bottom."
"People were being tossed around like rag dolls," Lynam added. "Everybody was crying and screaming. The plane was like a disaster."
Weather is believed to be to blame for the severe turbulence.
"The captain had said that we were going to be hitting [turbulence]. You could tell there were, like, storm clouds outside. It was just normal ‒ if you fly a lot ... it just kind of shakes and then it's OK," an unnamed passenger told KELO. "And then all of a sudden there was quite a big shake. Whoa. And then right after that there was a drop. The drop lasted maybe a second or two. But it was enough that people were caught off guard."
Two flight attendants and 22 passengers were injured and taken to the hospital when the plane diverted to Rapid City Regional Airport in South Dakota. All 24 were evaluated, treated for minor injuries and released by Friday morning, Rapid City Regional Hospital told NBC News.
People appeared to suffer from cuts and neck injuries, passenger Casey Corcoran told ABC News. The plane was damaged, with cracks in the overhead bins, he said.
JetBlue sent care team members to assist the injured customers, then sent a replacement plane to fly customers from Rapid City to Sacramento, the company said in a statement.