Video released of disabled cancer patient being violently arrested by Memphis airport police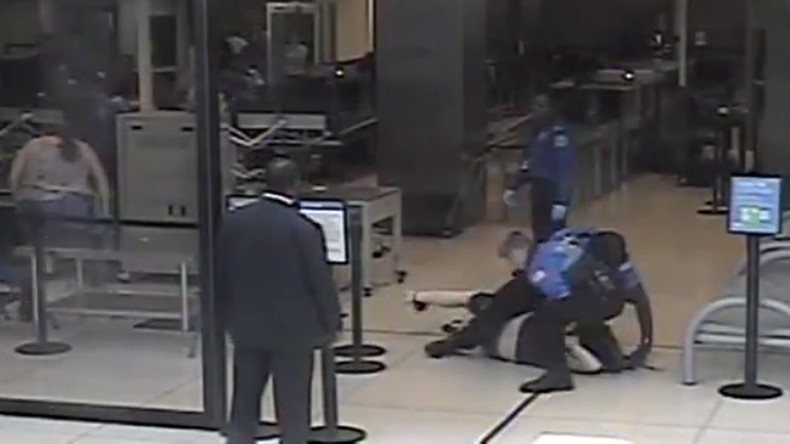 New security camera footage shows the confrontation between Memphis International Airport police and confused and anxious young woman with several disabilities, as well as her subsequent violent by officers.
The video released Thursday by the Commercial Appeal is the latest in the case of the 19-year-old Hannah Cohen, who was leaving Memphis Tennessee on June 30, 2015, after receiving a treatment for a brain tumor.
READ MORE: Disabled woman undergoing brain tumor treatment sues after bloody TSA beating at Memphis airport

The video shows Cohen and her mother arguing with police after she set off a metal detector at a security checkpoint.
After about two minutes of arguing, Cohen can be seen trying to move away from officers, but she is grabbed. The young woman and her mother, Shirley Cohen, resisted, and her mother was pulled away by another officer.
Cohen was brought to the ground by one officer, and then the other officer joined him in restraining her with their knees on top the young woman's body. One of the officers can be seen pressing Cohen's neck between the floor and his knee.
After being cuffed, Cohen can be seen lying on the floor motionless and crying before officers put her on her feet and quickly walk her off camera.
Shirley Cohen said that she tried to tell the officers of her daughter's condition, but the escalation still continued.
"They wanted to do further scanning, she was reluctant, she didn't understand what they were about to do," the elder Cohen said.
Hannah was arrested and sent to jail, but the charges against her were later dismissed. The family filed a lawsuit last month against the airport, the airport police and, the TSA.