'Berners did it better': Trump shrugs off 17 female hecklers during Detroit speech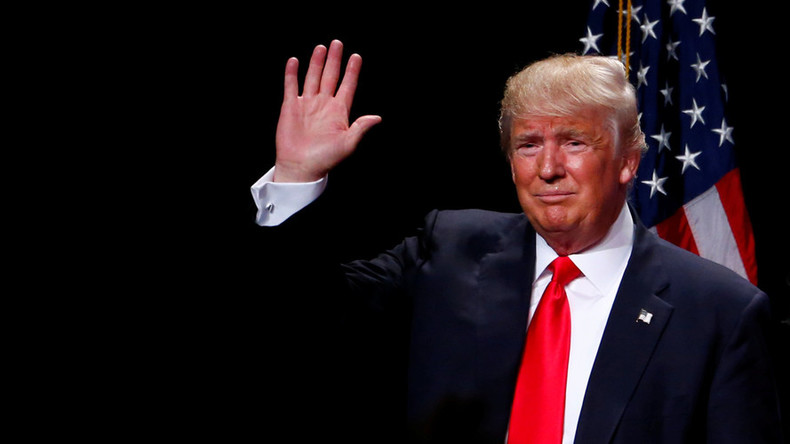 Donald Trump's big economics speech in Detroit was repeatedly interrupted by organized protesters. Security removed 17 women from the venue, while the GOP candidate stuck to the script and made just two comments addressing the hecklers.
The Republican presidential nominee was in Michigan on Monday to deliver a speech to the Detroit Economic Club about his economic vision. He promised to cut and simplify taxes, create jobs, and trim the 80,000 pages of government regulations that he described as "the anchor dragging us down." However, he kept getting interrupted by hecklers at random moments during the address – almost all of whom were women.
"It's all very well planned out," Trump said as the ninth heckler was being led away from the Cobo Arena. That turned out to be entirely accurate: the protest was organized by the Michigan People's Campaign, a liberal group dedicated to putting "people and the planet before profits."
"We wanted to get underneath Donald Trump's skin," Erik Shelley, a spokesperson for the group, told The Hill. "We felt that Donald Trump would have a real issue with women standing up to him."
The Huffington Post identified two of the protesters by name, including a Grosse Pointe auto worker and a Detroit cafeteria employee. Another heckler was identified by Detroit's WXYZ-TV as Rashida Tlaib, a former state representative.
This is at least the second organized disruption at a Trump event. Last Thursday, members of the Maine People's Alliance stood up during Trump's speech in Portland to hold up pocket copies of the US Constitution. The gesture was intended to echo Pakistani-American lawyer Khizr Khan, who denounced Trump at the Democratic convention in Philadelphia last month. Khan's son, a US Army Captain, was killed by a roadside bomb in Iraq in 2004.
If the Michigan organizers hoped to provoke an angry reaction from Trump, however, they were disappointed. The billionaire businessman smiled and thanked the security every time a protester was removed, but refrained from saying, "Get them out of here!" as he used to do at rallies. The closest he came was the quip that "Bernie Sanders people had far more energy and spirit."
Instead, the Republican nominee stuck to the speech as written, branding his opponent Hillary Clinton as "a candidate of the past" who had nothing to offer but old, tired policies that led once-great cities like Detroit into ruin.
"We are going to look boldly into the future," Trump concluded. "Americanism, not globalism, will be our new credo. Our country will reach amazing new heights, maybe heights never attained before. All we have to do is stop relying on the tired voices of the past."