Chicago releases video of police shooting Paul O'Neal, unarmed black teen (GRAPHIC VIDEO)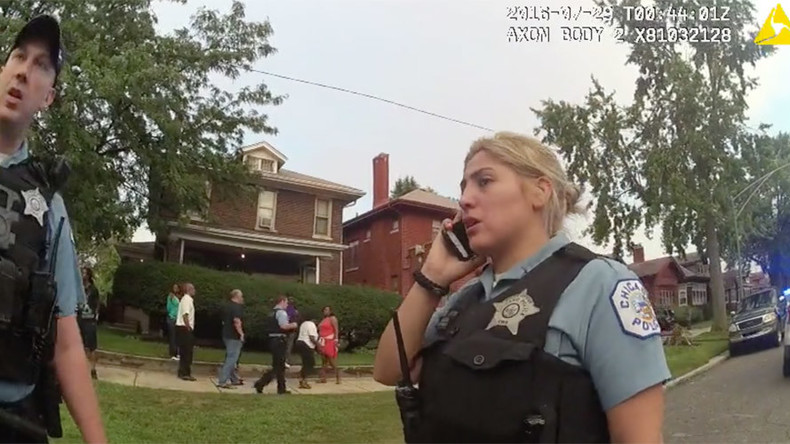 Footage of the fatal encounter between Chicago police officers and unarmed black teenager Paul O'Neal has been released by the city. Police review agency chief described the video as "shocking," while a family lawyer called it an "execution."
O'Neal was killed by CPD officers in Chicago's South Shore neighborhood on July 28, after crashing a Jaguar convertible that was reported stolen earlier in the day in Bolingbrook, a suburb to the west. The Cook County medical examiner's office confirmed he was shot in the back.
On Friday, Chicago's Independent Police Review Authority (IPRA) posted dashboard and body camera footage from four of the officers involved in the shooting.
READ MORE: Chicago police body cameras fail to record killing of unarmed black teen
Calling the footage of the shooting "shocking," IPRA Chief Administrator Sharon Fairley said that the agency decided to release the videos before the 60-day timeline outlined in Chicago's transparency policy because a determination was made "information can be released to the public without jeopardizing the investigation."
"We are releasing this information that we understand is of utmost public interest," Fairley said.
Video recordings show the Jaguar sideswiping one police cruiser before ramming another. O'Neal can be seen running from the car into a row of houses, with police in hot pursuit. While there is no video from the officer who cornered him, body cameras from two other officers show the aftermath, with a bloodied O'Neal lying on the ground.
"They shot at us too, right?" one officer asks. O'Neal had been unarmed.
"I shot at the car after it almost hit you,"says another.
"We just came from watching Chicago police officers execute Paul O'Neal," Michael Oppenheimer, attorney for the family, told Chicago's WBBM-TV. "It is one of the most horrific things that I have seen, aside from being in a movie."
<
"These police officers decided to play judge, jury and executioner," Oppenheimer said. "It is horrific, it is tragic, that these officers did what they did, and took their street justice in their own hands; the things that they are trying to prevent, or supposed to prevent."
"What I saw was cold-blooded murder," Oppenheimer told reporters at a press conference Friday. "You don't even shoot, and you shouldn't shoot, dogs that are running away."
Oppenheimer called for a special prosecutor to be appointed to investigate the case.
O'Neal's mother, Tanisha Gibson, filed a federal wrongful death lawsuit against the Chicago PD on Monday, accusing the officers of shooting her son "without legal justification," the Chicago Tribune reported.
One community activist, who was shown the videos before they were released to the public, says the footage shows officers stomping on O'Neal and later discussing how to turn off body cameras.
"I saw a police officer approach a lifeless O'Neal, face down to the ground, with three or four other officers over his body, screaming at him to put his hands behind his back, run up, stomp him in his back, and then grab his hands very violently, and put him in handcuffs, clearly lifeless," Jedidiah Brown told WBBM.
"My heart is completely broken," said Brown. "I felt like that was a tear right down the middle of this relationship between the community and police, and I think it's going to even further divide communities in Chicago as it relates to public safety in the city."
Chicago erupted in protests last November, after the city released video showing the 2014 police shooting of another African-American teenager, Laquan McDonald. The officer who fired 16 shots at McDonald was dismissed and charged with murder. Both the police superintended and the IPRA chief resigned in the aftermath, while the city's attorney was ousted in a primary election.
Praising IPRA's decision to release the videos quickly, Police Superintendent Eddie Johnson vowed to "take a hard look at the training and tactics" used in the incident.
"My promise to the people of Chicago is that we will be guided by the facts and should the wrongdoing be discovered, individuals will be held responsible for their actions," Johnson said.
The identities of the officers involved in the shooting have yet to be released.