Black Texas woman arrested after calling 911 to request different officer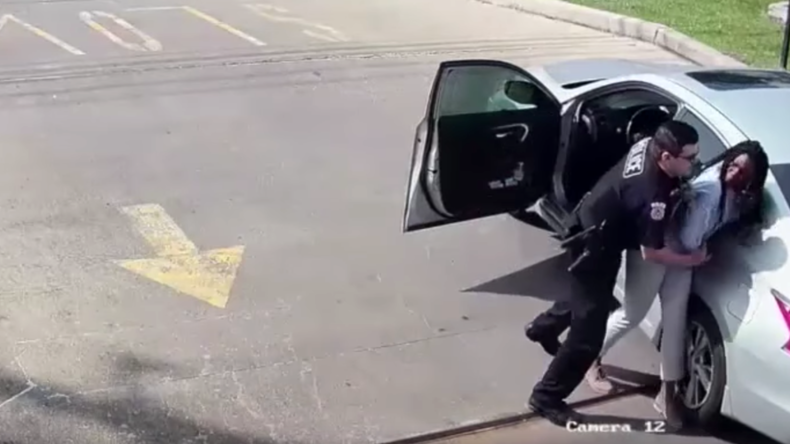 A black Houston woman was arrested after being pulled over for a traffic violation and calling 911 to say she was afraid of what the cop might do. Lawyers say the situation is another example of excessive police force against African Americans.
A video released on Wednesday shows Earledreka White's arrest in March for allegedly crossing double solid lines on a highway. Apparently feeling frightened, she made a call to 911 as she stood outside her car next to the officer.
The officer can be heard indistinctly talking and sometimes shouting in the recording, while White told the dispatcher that she was being unfairly accused of crossing a solid traffic line, claiming that she did no such thing.
"I got out of the car to ask him what the offense was. He raised his voice at me and threatened to arrest me. So I'm really confused.
"I would like another officer to come out here," she added. "My heart is racing. I'm really afraid."
The 28-year-old was grabbed and put in handcuffs by the officer while White cried out for him to stop while still on the phone. The video captured her struggling as the officer presses her against the car. She was charged with resisting arrest.
White's attorney Zack Fertita said that the footage, which was taken from the surveillance camera of a nearby business, shows that the officer needlessly escalated the situation and that this is another example of excessive force being used against black Americans.
"[Officer Luca's] training has to have been woefully inadequate," Fertitta, who is working on the case pro bono, said, according to the Houston Press. "This is a traffic stop that escalated to arrest — for resisting arrest. There was no breach of the peace. She didn't attack him. There are excellent police officers out there who are complete professionals, but this guy is not one of them."
READ MORE: Young blacks, Hispanics say they're familiar with police harassment – poll
Metro Police Chief Vera Bumpers, however, said that Luca had the right to arrest White. The police said that the officer had repeatedly asked for her license and registration while White was on the phone, but White ignored him.
"There was no need to be on the phone with 911," Bumpers told the Houston Press. "911 is an emergency call. He was not threatening her. He was acting under the color of law as a police officer. To me, when your life is in danger, that is when we utilize 911, which is why the 911 operator transferred her to Metro."
White's criminal resisting arrest charge is punishable with up to one year in jail and $4,000. Her court date is set for August 30.
You can share this story on social media: