US Navy replaces uniform that camouflaged underwater sailors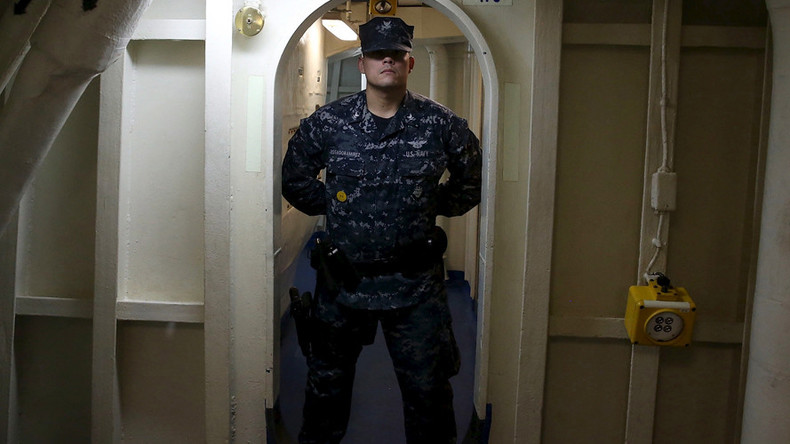 US naval officers are rejoicing over the decision to throw their blue-and-gray uniforms overboard in lieu of something more comfortable and cost effective. The uniforms only camouflaged sailors who had fallen in the water – making rescue more difficult.
Beginning on October 1, the Navy will begin phasing out its blue and gray attire known as "blueberries." Instead, enlisted members will be given money to purchase traditional green-and-tan camouflage, known as woodland cammies, while officers will pay out of pocket, the Navy Times reported.
The green camouflage, also known as NWU Type III, will become the standard uniform for shore duty by October 2019.
Blueberries have been the standard garb for the past decade, so the decision marks the end of 10 years spent complaining about uncomfortable and heavy uniforms that only camouflaged sailors who had fallen overboard into the water. That's typically when they should be seen, specifically by the people trying to rescue them.
"We have heard the feedback and we are acting on it," Navy Secretary Ray Mabus said in a statement to the Navy Times.
The blue and gray uniforms cost the government hundreds of millions of dollars, but the replacements will be cheaper.
"Our sailors want uniforms that are comfortable, they want them to be lightweight and breathable and ultimately, they want fewer of them," Vice Admiral Robert P. Burke told the Navy Times.
"Our force really loves the Type III's," he added. "Fleet feedback is that it's lighter, it breathes good in hot weather climate, it's got the right accessories for cold weather climates – and it just wears better."