NY cop in trouble for racist Facebook posts caught grinding on woman while on duty (VIDEO)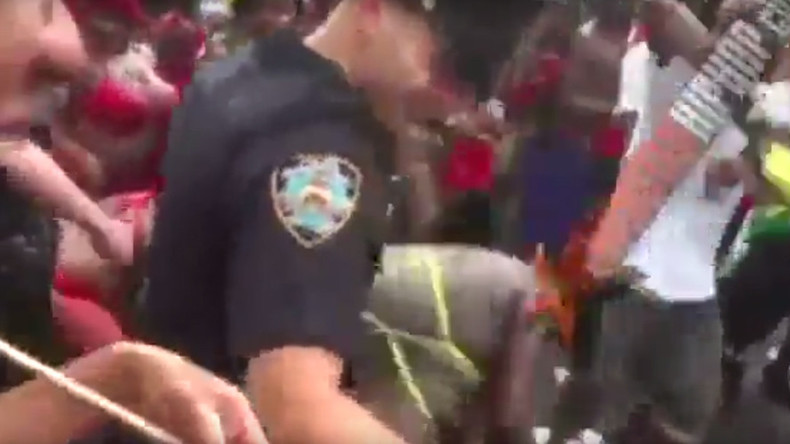 An NYPD officer, already under investigation for posting a series of racist rants on his Facebook page, is now being reprimanded over footage of him inappropriately dancing with a woman while on duty.
Detective Gregory Gordon, 33, was in uniform when he was filmed ferociously grinding against a dancer during a West Indian Day Parade in 2011.
The footage came to light just as Gordon got himself into hot water by posting multiple rants on Facebook, in which he insulted the Police Commissioner, the mayor's wife, black people, transgender people and Muslims.
In one post, Gordon called the NYC mayor de Blasio's wife, Chirlane McCray, a "former crack addict".
"Explain to me a time when a mayor's wife has ever been able to weigh in on police related topics ever before? Who cares what this former crack addict says!" wrote Gordon at the end of 2014 after a report claimed McCray didn't trust Police Commissioner Bill Bratton – whom Gordon also slated.
Bratton threatened to strip Gordon, a former Marine who served in a Iraq, of his medals after one of the detective's more recent posts read: "If this is true, Bratts can take our medals and shove them up his A$$," after the commissioner declined Donald Trump's request to speak at a precinct last month.
"We will ensure that they are removed from department records if he feels so dishonored as a member of the New York City police department," said Bratton to the NY Post on Monday.
READ MORE: Young blacks, Hispanics say they're familiar with police harassment – poll
In August 2014, Gordon reportedly posted a list of 19 white people from across the US who were killed by black people in June. All of which, he claimed, received no press coverage.
"Some might get pissed at this status, but it just shows how some people decide when 'racism' is acceptable. To sell the news," he wrote, according to the Daily News.
"Are you f**king kidding me? Stop acting like anyone owes you anything. Slavery ended 149 years ago," he reportedly wrote in another post after a woman told a television reporter it was hard growing up black.
"Are you f**king kidding me? If you have a d**k, you belong in the men's room. Way to go de Blasio," was another one of the offensive posts that the detective wrote.
"The War is here ladies and gents!!! "They" want us dead, just bc of the Blue Uniform we wear to keep the sheep safe," wrote Gordon in response to the shooting of police officers in July.
READ MORE: 'Where's your badge?' Off-duty cop pulls gun on cyclists in road rage incident (VIDEO)
"Isis this and Isis that. I have an answer. 27.2million U.S. veterans waiting for you goat-f***ing b**tards. Bring it!", he warned after the terrorist attack in Nice.
Gordon has since deleted his Facebook account and has been transferred from his Brooklyn precinct to Staten Island while his behavior in the video and online conduct are investigated.