Pay to play & loose screws: Libertarian candidates blast both major-party nominees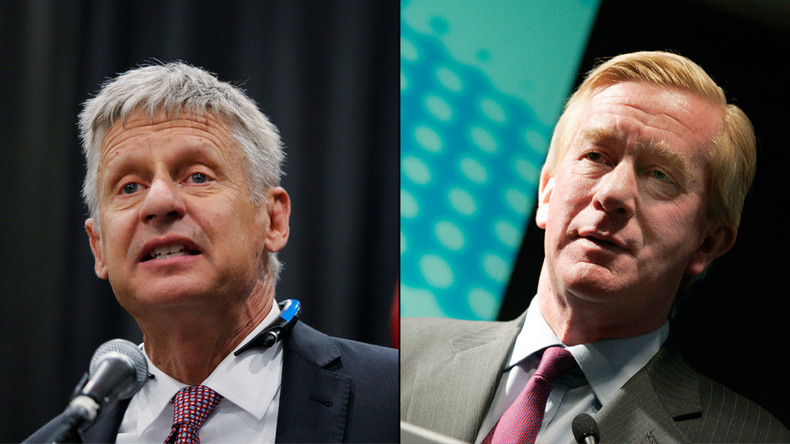 Libertarian presidential nominee Gary Johnson and his running mate Bill Weld took aim at major party candidates, calling Hillary Clinton untrustworthy and characterizing Donald Trump as a huckster.
At CNN's second "Libertarian Town Hall" moderated by Anderson Cooper on Wednesday evening, Libertarians Johnson and Weld answered questions from the host and from the audience.
Read more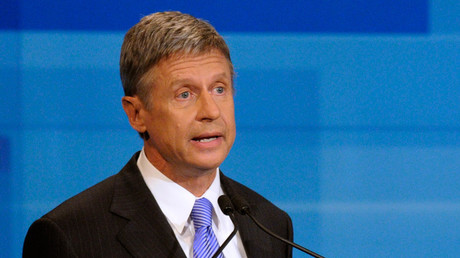 They didn't squander the opportunity to take swipes at their more mainstream opponents, however.
"He's a showman, he's a pied piper, he's the music man," Weld, a two-term Republican governor of Massachusetts, said of Trump. "Now what comes to mind is there's a screw loose. Maybe he should consider some other line of work – like anything other than president of the United States."
Johnson, who himself served two terms as Republican governor of New Mexico, chimed in to take Clinton down a notch.
"What we both like to talk about is: was there anything that Hillary Clinton didn't promise in her speech last night?" Johnson asked.
He also painted Clinton as "beholden" to certain interests because of her acceptance of speaking fees in the hundreds of thousands from private corporations, and the Clinton Foundation's accepting multi-million dollar donations from countries like Saudi Arabia, which may have been a conflict of interest to a State Department under Clinton.
"It smacks of pay-to-play [politics]," he said. "I think it goes beyond just smacks of pay to play, that it's really something that's out there."
"I totally get it," Johnson said, referring to the fact that about 64 percent of voters finding Hillary Clinton untrustworthy.
Weld didn't personally intervene to attack Clinton, saying that he considers both of the Clintons to be his friends, having known Hillary since they both worked as lawyers on the impeachment investigation against President Richard Nixon.
Johnson said that his goal is to reach enough support to secure an invitation. Without such a place on stage – which requires at least 15 percent support in national polls – he said he would have no chance of winning the election in November.
The 2016 presidential election might be the perfect storm for the Libertarian Party, which is the third-largest political party in the United States. Both Hillary Clinton and Donald Trump have historically low favorability ratings, allowing room for marginalized third parties to finally make an impact.
Johnson is currently in a three-way polling tie in Utah. If he manages to win it and prevents both Donald Trump and Hillary Clinton from getting an absolute majority of electoral votes, a contested convention would be triggered where the House of Representatives chooses the winner. Some commentators have pointed out that the GOP-controlled House might pick Johnson as a compromise between the two other candidates.
However, Johnson is hoping to win the election the old-fashioned way.
"Our strategy is to win the thing outright, and some extraordinary things have to happen," he said. "But has there ever been a more extraordinary political year in our lives?"