Texas man soon to be executed never killed anybody (VIDEO)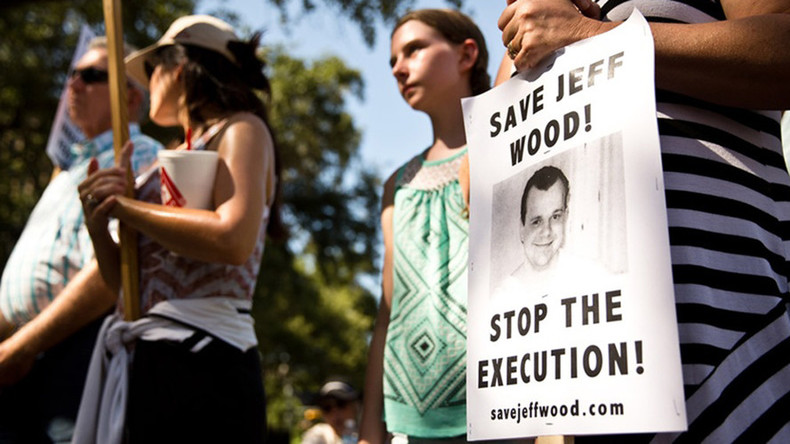 Jeff Wood, a Texas man who has been on death row for 18 years, is finally scheduled to die at the end of August – despite the fact that he never actually killed anyone.
Like most of those on death row, Wood has been awaiting execution for a very long time. He was sentenced to death in March 1998, and is currently scheduled to be executed on August 24.
Wood, now 42, was arrested in January 1996 for his role in the robbery and murder of a gas station clerk. Wood thought that the robbery had been called off, and his accomplice, Daniel Reneau, killed the clerk, who himself had backed out of the robbery the day before.
Wood said that Reneau threatened to kill his daughter if he didn't help remove the safe from the premises and drive away.
"I believe that no person in the history of the modern death penalty has been executed with as little culpability and participation in the taking of a life as Mr. Wood. In that respect, his execution may mark a national first," said Jared Tyler, a Houston-based attorney who represents Wood.
The condemned man claims that he's guilty of conspiracy to rob a store, but not guilty of the murder. Reneau was executed in 2002, and Wood's case has been ensnared in the legal system ever since.
Even though Wood only served as a getaway driver for the man who did commit the murder, he was still found criminally liable and was sentenced to death. Because of Texas' so-called "law of parties," a person who was an accomplice to a crime can still be sentenced to death.
Under the law, if two people agree to a crime beforehand, but then one of the individuals commits a different crime instead, the other individual can still be held liable for that crime to which they did not agree to commit.
"Another man has already been executed for this crime," Texas defense attorney Kate Black told RT America. "Justice will not be served by executing Mr. Wood, who was not even in the building at the time of the crime. All he had agreed to was to rob a convenience store, and this is not the worst of the worst crime that the death penalty is intended to be used for."
If Wood's execution goes forward as planned, he would be one of the few individuals in American history to ever be executed without having committed murder.
You can share this story on social media: