Drone pilots risk skirmish with NY law in taking viewers from subway depths to atop city skyline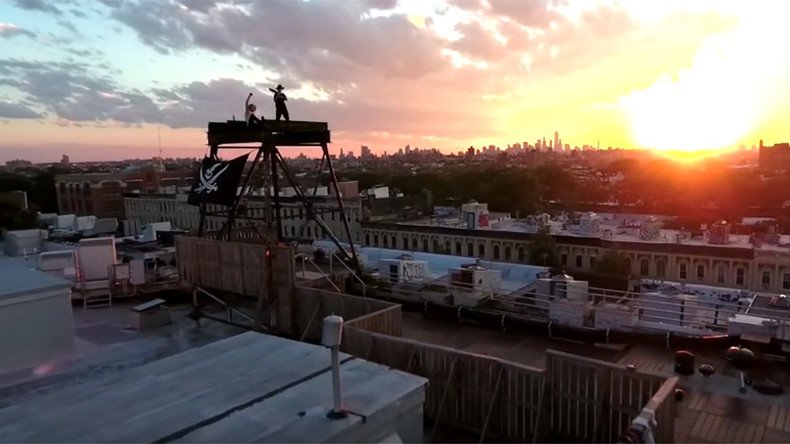 The use of drones has landed a few New Yorkers in court but that didn't stop producers behind a new video from providing viewers with a bird's eye view of the subway, Brooklyn streets and a stunning view of the skyline.
The video by Jolly Roger Cinema on YouTube follows two New Yorkers going about their day.
The scene that unfolds takes viewers from the depths of the subway, watching what seems like a father and daughter both engaged in reading, before arriving at their stop at Halsey Street. The drone then takes off, emerging from the subway, flying over the streets of Bushwick, with people waving at it.
The creators tricked the viewers a bit, as the interior shot of the subway was not shot with a drone, according to the Gothamist.
But viewers may be willing to forgive the audacity of flying a drone in the Big Apple after seeing the charming view of New York's landscape.
There are no direct laws banning quadcopters, but if the NYPD thinks that an operator is creating public risk, he or she can be hit with a reckless endangerment charge, and that means prison time. It's illegal to fly a drone over city parks. As for other public places such as roads, stadiums, and where people are gathered, it's a gray area, but lawyers do not recommend flying them.
In February, a man maneuvered a remote-controlled drone above the streets of midtown Manhattan before it crashed onto the ledge at the Empire State Building. He was arrested when he went inside to ask for it back, according to police.
Drones have been a big problem near airports. Before the US Federal Aviation Administration issued guidelines and permits last December, there were a number of near misses between aircraft and drones in 2014 which caught their attention.
A JetBlue pilot taking off at JFK Airport reported a near collision with a drone at about 5,800 feet in January 2014. A Southwest Airlines 737 pilot reported a drone passing just 100 feet below his plane as it descended to land at Baltimore-Washington International Thurgood Marshall Airport. That was followed by a medical helicopter in St. Louis needed to swerve to avoid colliding with a drone that was 100 feet away.
A report released in March this year chronicled 583 near misses with aircraft between August 2015, and January 2016. That averages out to approximately 116 reported incidents monthly.
In June, the US Federal Aviation Administration announced new rules allowing small, remote-controlled unmanned aerial systems (UAS), or drones, to conduct routine commercial flights in accordance with public safety and national airspace rules, and without special permission from the federal government.
Since 2014, the FAA said it had granted more than 6,000 commercial permits. There are an estimated 2.5 million drones in the US, and more than 406,000 people have signed up to pilot drones since the federal registry was activated in December.
You can share this story on social media: