DC Metro Transit cop arrested for trying to help ISIS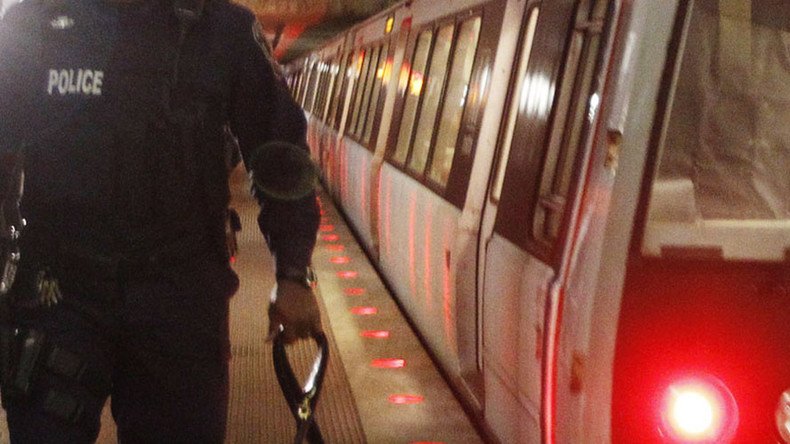 A Metro Transit police officer in the Washington, DC area has been arrested and charged with attempting to provide material support to Islamic State. He also previously traveled to Libya in an attempt to help overthrow the Gaddafi government.
The officer, Nicholas Young, was trying to help Islamic State (IS, formerly ISIS/ISIL) operatives find ways to communicate in secret, the Department of Justice said in a statement. The officer was sending "stored value" gift cards for mobile messaging accounts to IS abroad.
According to an indictment filed in federal court in Alexandria, Virginia, Young was convinced by an undercover FBI officer to send him codes for 22 mobile messaging cards.
Young was arrested at work Wednesday morning at the Metropolitan Police Department Headquarters.
The Metro Transit Police Department is the law enforcement agency tasked with protecting the DC area's subway system. Young never posed a credible or specific threat to the Metro system, authorities said, according to the Washington Post.
Young, 36, has worked for the Metro police since 2003. The FBI began monitoring him in September 2010, after interviewing him about an acquaintance of his, Zachary Chesser, who had been arrested and later pleaded guilty to attempting to provide material support to a designated foreign terrorist organization.
Another of Young's acquaintances, Amine El Khalifi, pleaded guilty to charges related to a plan to conduct a suicide bombing at the US Capitol in 2012.
Young traveled to Libya once and attempted to travel there a second time to help rebels attempting to overthrow the government of Muammar Gaddafi, according to the FBI affidavit. He traveled with body armor, a kevlar helmet and several other military-style items, baggage searches revealed.
The FBI worked with a confidential informant who posed as a US military reservist of Middle Eastern descent who wanted to travel overseas to join IS in his interactions with Young. The police officer told the informant how to evade law enforcement detection while traveling, and advised the informant not to discuss his plans with others, the DoJ said.
In 2014, the informant convinced Young that he had left the US and successfully joined IS. At that point, undercover FBI personnel took over communication with Young via email, posing as the informant.
Last June, Young asked for advice from the informant's commanders on how to send money to IS.
"Unfortunately I have enough flags on my name that I can't even buy a plane ticket without little alerts ending up in someone's hands, so I imagine banking transactions are automatically monitored and will flag depending on what is going on," Young wrote.
On July 18, Young wrote to the informant about purchasing gift cards for mobile messaging accounts, which IS reportedly uses to recruit others. He sent 22 gift card codes to the undercover FBI personnel, writing: "Respond to verify receipt... may not answer depending on when as this device will be destroyed after all are sent to prevent the data being possibly seen on this end in the case of something unfortunate."
The FBI eventually redeemed the codes for $245, according to court documents.
If Young is convicted, he faces a maximum of 20 years in prison.
The FBI arrests Americans on a monthly basis for trying to join IS, often times through stings conducted by the bureau. Hundreds more are suspected of otherwise supporting the terrorist group.
You can share this story on social media: