Gold Star Muslim father Khan deleted law firm website after criticizing Trump – report
Published time: 3 Aug, 2016 03:42
Edited time: 24 Aug, 2016 07:42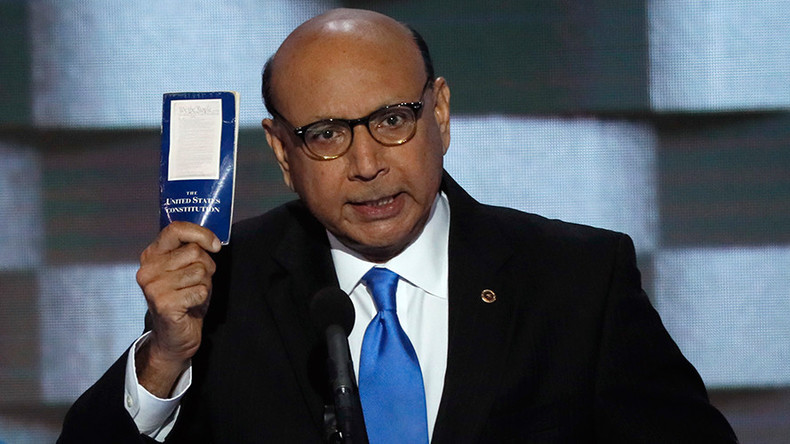 Khizr Khan, who as a Gold Star father of a soldier killed in the Iraq war spoke out against Donald Trump at the DNC, has reportedly deleted a website for his Muslim immigration-focused law firm after Trump dragged out their rivalry on Twitter.
Khan, a Pakistani-born lawyer who moved and settled in the US in the 1980s, has been providing legal support in immigration cases. He specializes in the controversial EB-5 visa program for foreign investors.
This week, a website of Khan's firm went offline and remains unavailable. Khan gave no explanation to his website's disappearance, but some media reports allege it was not accidental.
According to Breitbart News, Khan has close ties to Hillary Clinton, the government of Saudi Arabia, and is helping mostly wealthy Muslims to make their way into the US.
Khan and his wife Ghazala Khan have been in the spotlight since supporting Clinton at the Democratic National Convention in Philadelphia last Friday. In his speech, Khan spoke about his son Humayun Khan, a fallen Gold Star soldier, who was killed in Iraq in 2004. Accompanied by his wife, Khan lambasted Trump for his anti-Muslim comments and proposal to bar non-American Muslims from entering the US.
Holding up a pocket-sized US Constitution, Khan questioned Trump's knowledge of it.
"Have you even read the United States Constitution? I will gladly lend you my copy," Khan said.
The GOP presidential nominee responded to Khan via his Twitter account, saying that he was "viciously attacked by Mr. Khan."
Mr. Khan, who does not know me, viciously attacked me from the stage of the DNC and is now all over T.V. doing the same - Nice!

— Donald J. Trump (@realDonaldTrump) August 1, 2016
Trump also targeted Ghazala Khan in an interview with ABC for standing in silence by her husband's side.
"If you look at his wife, she was standing there," he said. "She had nothing to say … Maybe she wasn't allowed to have anything to say. You tell me."
Captain Khan, killed 12 years ago, was a hero, but this is about RADICAL ISLAMIC TERROR and the weakness of our "leaders" to eradicate it!

— Donald J. Trump (@realDonaldTrump) July 31, 2016
Ghazala answered Trump's criticism with a moving essay posted by the Washington Post on July 31, in which she said, "I cannot walk into a room with pictures of Humayun … Walking on to the convention stage, with a huge picture of my son behind me, I could hardly control myself."
Trump has since faced a heavy backlash, including from fellow Republicans. New Jersey Governor Chris Christie slammed the comments as "inappropriate."
Senator John McCain of Arizona issued an extensive statement denouncing Trump's remarks targeting the Khans.
"In recent days, Donald Trump disparaged a fallen soldier's parents. He has suggested that the likes of their son should not be allowed in the United States — to say nothing of entering its service," McCain said. "I cannot emphasize enough how deeply I disagree with Mr. Trump's statement. I hope Americans understand that the remarks do not represent the views of our Republican Party, its officers, or candidates."
I was viciously attacked by Mr. Khan at the Democratic Convention. Am I not allowed to respond? Hillary voted for the Iraq war, not me!

— Donald J. Trump (@realDonaldTrump) July 31, 2016
President Barack Obama also chimed in, supporting the Gold Star parents. Speaking at the Disabled American Veterans in Atlanta, he said that families like the Khans "represent the very best of our country."
Obama has also slammed Trump as "unfit to serve" in one of his sharpest denunciations on the billionaire businessman.