Judge removes more than $500 million in fines from PG&E pipeline explosion case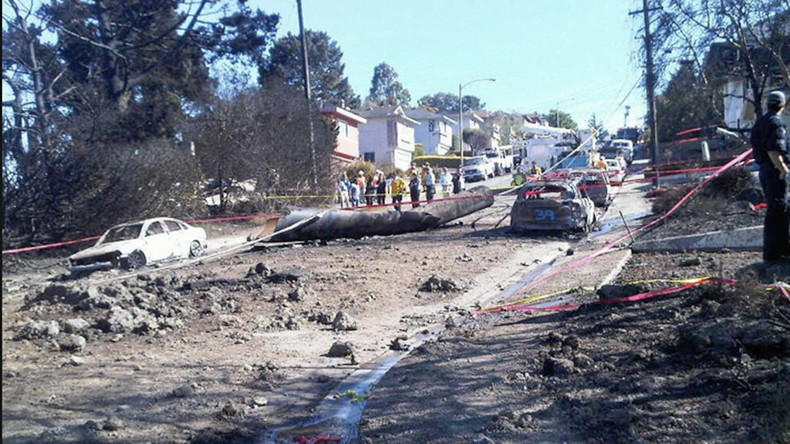 Federal prosecutors successfully requested that the judge in the PG&E natural gas pipeline explosion criminal case cut more than $500 million in potential fines as the jury deliberates. The 2010 blast killed eight, injured 58 and destroyed 38 homes.
US District Court Judge Thelton Henderson made an official ruling on the request Tuesday after Pacific Gas & Electric agreed. The US Attorney's Office gave no explanation for the surprise request, according to Associated Press.
Under the prosecutor's proposal the company would face a maximum fine of $6 million if convicted, rather than the potential $562 million fine. No utility officials are facing prison time.
The prosecutor's request comes after a month of testimony in the criminal case and four days into juror deliberations over whether PG&E is guilty of twelve felony counts. The company is alleged to have violated the Natural Gas Pipeline Safety Act of 1968 and obstructed investigators into a pipeline gas explosion in 2010.
On the evening of September 9, 2010, in San Bruno, a suburb of San Francisco, a natural-gas pipeline over a half-century old exploded, sending pipe parts and fire into the air, leaving eight people dead, injuring nearly five dozen more and destroying 38 homes. A US Geological Survey report said the shock wave was similar to that of a 1.1 magnitude earthquake.
Investigations found the utility company had ignored state inspector warnings and failed to provide adequate safety procedures. They also discovered that the pipeline, despite being 54 years old, didn't even meet the safety regulations from the 1950s.
"That is a surprise, but I'm sure the prosecutors had their reasons for doing what they did," San Bruno Mayor James Ruane told the San Jose Mercury News. "The big thing is for PG&E to be convicted for the crimes they committed. A conviction puts a very dark stain on the corporate seal."
In August 2015, the California Public Utilities Commission, which oversees PG&E, levied a $300 million fine against the company, which they paid.
PG&E also "refunded $400 million to gas customers and agreed to pay $850 million for gas-system safety improvements. It also settled more than $500 million in claims involving victims of the disaster and their relatives," according to The Street.
The Mercury News reported a court filing with PG&E provided a clue to the leverage that the utility's defense team may have used with federal prosecutors in the case.
According to the court filing, the company argued the penalty phase would become "unduly complicated," because it would have been necessary to present evidence related to how state regulators make decisions on whether ratepayers or shareholders, or a combination, will pay for upgrades to PG&E's vast web of gas pipelines.