NYPD Commissioner Bratton to resign amid protests against police brutality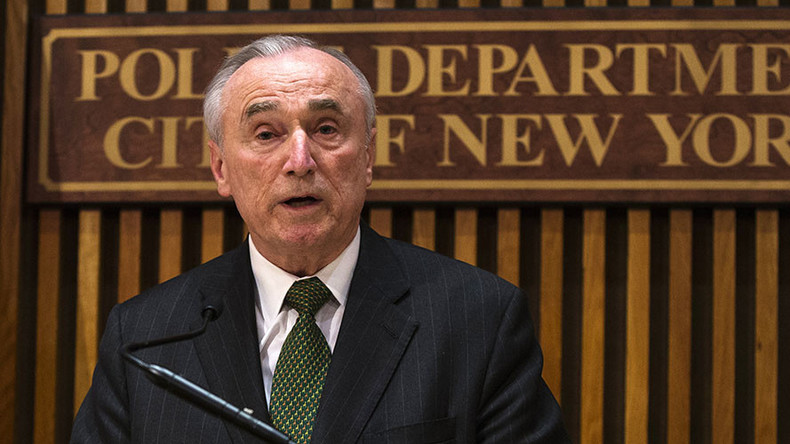 New York Police Commissioner Bill Bratton will resign Tuesday, a day after protesters called for his ouster, city officials said. He will be replaced by Chief of Department James O'Neill.
On Monday, an all-day demonstration run by the Millions March NYC group, a spin-off of the Black Lives Matter movement, vowed to shut down city hall until Mayor Bill de Blasio fired the commissioner. They also protested against police brutality and a justice system that is not race-blind.
Millions March NYC applauded and took credit for Bratton's decision.
However, Bratton told de Blasio of his decision to resign on July 8, the two said at a press conference.
When the mayor was asked if the resignation was related to the protests, de Blasio answered that "110 percent it has nothing to do with it."
Administration officials had already been interviewing potential replacements for New York City's top cop, according to the Wall Street Journal. Bratton will stay on the job until mid-September to ease the transition to the new commissioner, he said.
City officials: NYPD commissioner Bill Bratton will resign today & will be replaced by Chief of Department James O'Neill. @WSJ#BREAKING

— Pervaiz Shallwani (@Pervaizistan) August 2, 2016
Bratton will rejoin the private sector after he leaves the NYPD, but would not say where he was going, other than that he would remain in New York City.
"I'm leaving with reluctance. I wish I had three or four more years" he said at the press conference, to finish what he started, but he received an opportunity he couldn't turn down. "I'm leaving because it's the right time," he added.
Later on Tuesday, the WSJ revealed that he would take a job at Teneo, a global consulting firm with ties to Democratic presidential nominee Hillary Clinton and former President Bill Clinton. Bratton will run a new risk division.
Last Monday, Bratton told the New York Times that he would retire by the end of 2017. He also appeared to recommend O'Neill for the post.
"You always want to find people who own the change," Bratton said of O'Neill, who is in charge of the NYPD's effort to improve ties with the black and Hispanic communities while reducing crime.
The incoming commissioner created the neighborhood-based policing program for the NYPD, which will be rolled out to 51 percent of all city precincts, including all public housing commands, by October.
O'Neill's focus will be on "lowering crime but not at expense of losing the support of the people were are supposed to protect and serve," he said at the press conference.
"As the architect of our neighborhood policing program, Jimmy O'Neill has built a national model for bringing police and the community together to fight crime," de Blasio said Tuesday. "As the top-ranking uniformed member of the NYPD, Jimmy has spent each day ensuring that New York City remains the safest big city in America."
O'Neill started his policing career with the New York Transit Police in 1983, and was appointed to be chief of patrol in 2014, rising to chief of department later that year, upon the resignation of Chief Philip Banks.
Bratton began his career with the Boston Police Department, appointed to be commissioner of the NYPD by then-Mayor Rudy Giuliani in 1994. He left the post in 1996, while under investigation by the Corporation Counsel over a book deal and junket trips. From there, he moved to California, where he worked as a private consultant with Kroll Associates, the independent monitor of the Los Angeles Police Department. In 2002, then-Mayor James Hahn appointed Bratton as the LAPD commissioner. Five years later, he became the first commissioner to be appointed to a second term in nearly 20 years.
"It's one of the most prestigious positions in democratic policing in the world," Bratton said of the London post at the time. "I don't know that there's a major police chief in America or Canada, or for that matter in the British Commonwealth, who, given the opportunity, would not consider it."
De Blasio, then the Big Apple's mayor-elect, brought Bratton back to head up the NYPD in December 2013, replacing outgoing Commissioner Raymond Kelly, known for his controversial stop-and-frisk policy. Bratton promised a more conciliatory tone with the community, but his tenure has been marred by controversies, including the chokehold death of Eric Garner in July 2014, which led to protest around the country.
First Deputy Commissioner Benjamin B. Tucker will remain in his position. Bureau Chief of Patrol Services Carlos M. Gomez will become the chief of department, replacing O'Neill.
You can share this story on social media: