Smile! Volcanic eruption forms emoji-like face on Hawaii's Big Island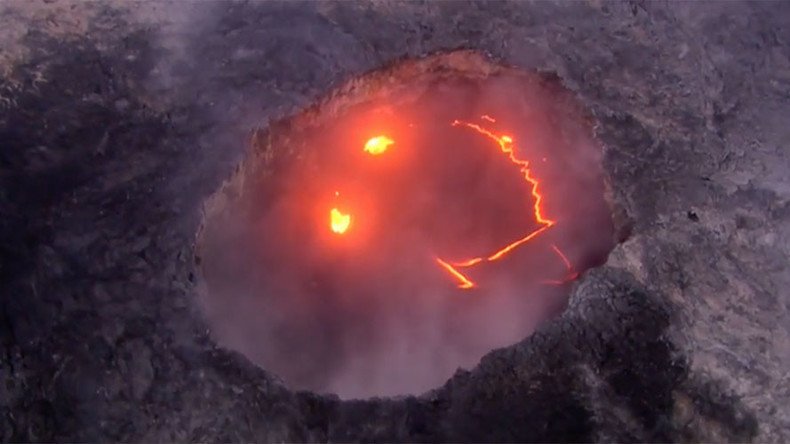 Pele, the Hawaiian goddess of fire, is all smiles as she unleashes lava from the Kilauea volcano. When seen from the air, the eruption appears to be in the shape of a smiley face.
Videographer Mick Kalber of Tropical Visions Video captured the emoji-like display via helicopter ride over the Pu'u O'o Crater.
Kilauea has been continuously erupting since 1983, with lava from the Pu'u O'o vent oozing towards the ocean since May. It is one of the most active volcanoes in the world, according to the US Geological Survey (USGS). Its name means "spewing" or "much spreading."
Last week, lava from Kilauea reached the Pacific Ocean for the first time since 2013, creating a spectacular view of the molten lava flowing like a waterfall over a steep cliff and into the water at the Kamokuna Ocean entry.
Kilauea, located on the southern shore of the island of Hawaii (nicknamed the 'Big Island'), is a shield volcano that is between 300,000 and 600,000 years old. It emerged above sea level about 100,000 years ago. The volcano has a large summit caldera, called Halemaumau. According to Hawaiian legends, the caldera is the home of Pele, the goddess of fire, lightning wind and volcanoes and who created the Hawaiian Islands.
The eruption poses no threat to local communities, the USGS said in its most recent Kilauea status report. However, the government agency cautions that "there are additional significant hazards" to visitors viewing the new ocean entry, including "flying debris created by the explosive interaction between lava and water" that "creates an acidic plume laden with fine volcanic particles that can irritate the skin, eyes, and lungs."
The USGS also warns that the new, unstable land is "built on unconsolidated lava fragments and sand. This loose material can easily be eroded away by surf causing the new land to become unsupported and slide into the sea."
You can share this story on social media: