16 dead after hot air balloon crashes and burns in Texas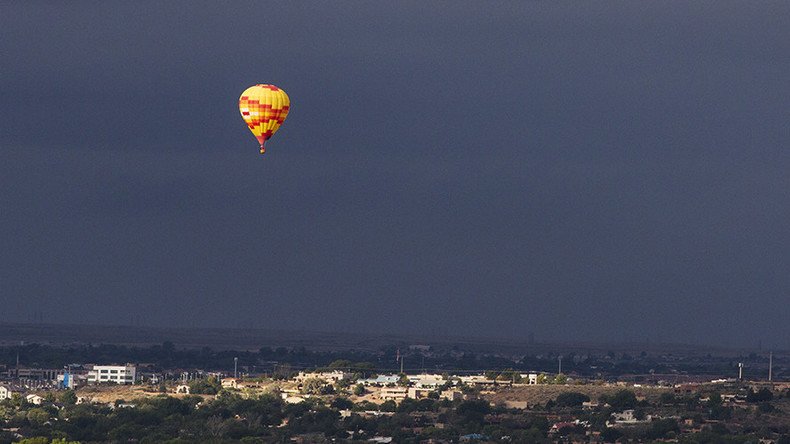 A hot air balloon carrying 16 people caught fire and crashed into a field near Lockhart in central Texas, in what is the second-deadliest ballooning accident in history.
Police said that they answered a 911 call at 7.44 a.m. on Saturday, claiming that there was a road vehicle fire about 30 miles (48km) south of state capital Austin.
"When the Emergency Responders and the Sheriff's Office arrived it was apparent that the reported fire was the basket portion of a hot air balloon."
Officers then saw that the balloon "was occupied" and are now "determining the number and identities of the victims."
The Texas Department of Public safety later confirmed that all those on board had perished.
Texas Governor Greg Abbott expressed "deepest condolences" and promised an investigation into the "heartbreaking tragedy."
Both, the Federal Aviation Administration and the National Transportation Safety Board have sent experts to the scene.
The hot air balloon may have come into contact with power lines, Reuters quoted eyewitnesses as saying.
Caldwell County Judge Ken Schawe told CNN that the balloon could have collided with a power line, which could have triggered the fire and caused the crash. His theory is shared by a source from the Texas Department of Public Safety.
The pilot of the balloon was later identified as Skip Nichols, a chief pilot with Heart of Texas Hot Air Balloon Rides.
The company's FB page has been since flooded with condolences.
The worst-ever hot air balloon crash occurred in Luxor, Egypt in 2013. It resulted in the deaths of 19 of the 21 passengers on board, after the contraption caught fire when attempting to land. In 2012, a crash in Slovenia killed six people, when a balloon was blown towards the ground by a storm, and in New Zealand, 11 people died, after a tourist balloon became tangled in a power line. In both cases, the gas-powered aerostats were engulfed in rapidly-spreading flames.
You can share this story on social media: