US criminal justice system targets minorities more than Wall Street thieves – UN human rights expert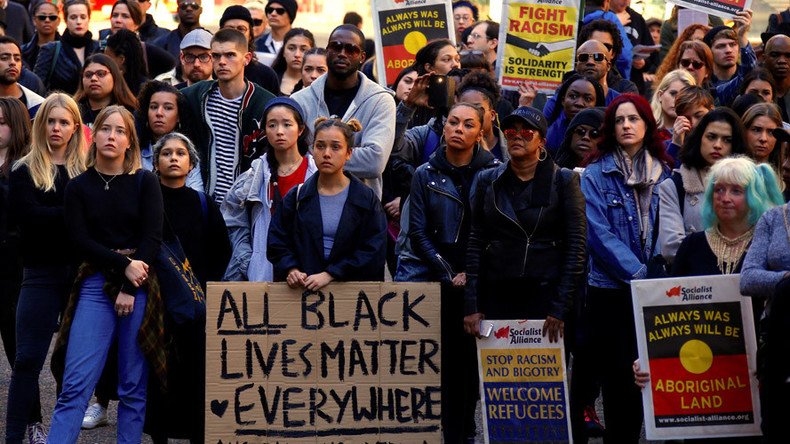 The United States continues to be mired in racial, social, and economic inequalities, inhibiting the basic rights of its citizens, especially people of color, says a UN Special Rapporteur on the rights to freedom of peaceful assembly and of association.
Following a 17-day fact-finding visit to various US cities, including Baltimore and Baton Rouge, United Nations human rights expert Maina Kiai reported that systemic inequalities in the US are prohibiting the exercise of peaceful assembly and free association. These inequalities are rooted in the history of the US and particularly impact black Americans, he said, adding that he could not conduct his visit to the US "without issues of racism pervading the discussions."
"Racism and the exclusion, persecution and marginalization that come with it, affect the enabling environment for the exercise of association and assembly rights," Kiai said Thursday. He noted the long, sordid legacy of racial discrimination in the US, from chattel slavery and Jim Crow segregation laws to more modern, covert racism engrained in the so-called "War on Drugs" and "three strikes" prison sentencing laws pushed by the likes of former President Bill Clinton.
Regarding the more subtle racism of today, "old philosophies of exclusion and discrimination were reborn, cloaked in new and euphemistic terms," he said, as so-called law-and-order policies have resulted in often insurmountable fines and jailings over low-level criminal convictions, such as the discriminatory debtors-prison model employed in places like Ferguson, Missouri.
"There is justifiable and palpable anger in the black community over these injustices. It needs to be expressed," Kiai said. "This is the context that gave birth to the non-violent Black Lives Matter protest movement and the context in which it must be understood."
Rather than a mass effort to target the kind of Wall Street theft that triggered the 2007-2008 economic recession, US "criminal justice resources go towards enforcing a different type of law and order, targeting primarily African-Americans and other minorities," he said.
Economic inequality is seen in places like Canton, Mississippi, where officials and the moneyed class boast of how hostile and difficult in can be for labor organizers to challenge "free market fundamentalist culture that actively discourages unionization" and entrenched corporate power.
"I was shocked to see that in states such as Mississippi, the lack of unionization and ability to exploit workers is touted as a great benefit for employers," he said, citing a Nissan plant in Canton. "The figure that stands out for me is this: Nissan reportedly operates 44 major plants throughout the world; all of them are unionized, except for two of them in the US south. Why not Mississippi?"
Meanwhile, he said migrant workers in the US face "precariousness and exploitation of their employment situation, retaliation for drawing attention to adverse working conditions and a fear of taking action to seek improvement of the violations."
Militarized police at peaceful assemblies, disproportionate counter-terror measures, activist intimidation, and lack of accountability for rights violations contribute to a volatile climate for many who challenge power in the US, he said.
"People have good reason to be angry and frustrated at the moment," he said. "And it is at times like these when robust promotion of assembly and association rights are needed most. These rights give people a peaceful avenue to speak out, engage in dialogue with their fellow citizens and authorities, air their grievances and hopefully settle them."
You can share this story on social media: