Study blames climate change for floods and storms threatening US military installations on coast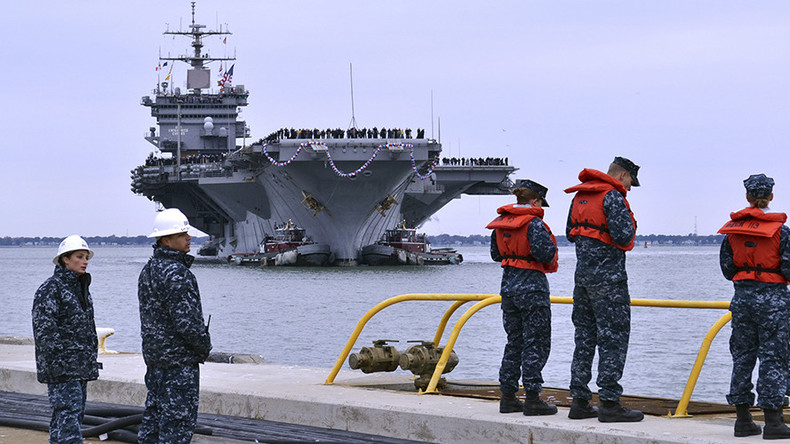 Sea-level rise, tidal flooding, and frequent storms associated with climate change will impact top US military installations along the East and Gulf Coast, according to a new report, putting them at risk for major land loss in the decades ahead.
An analysis of 18 major US military installations — including bases, training or testing areas, infrastructure storage, and housing of military personnel — found that by 2050, projections of moderate sea-level rise could mean that most of the installations will receive more than 10 times the amount of flooding currently experienced.
Based on moderate projections, all but two of the installations analyzed would experience more than 100 floods per year in low-lying areas by 2050, the report, conducted by the Union of Concerned Scientists (UCS), stated.
By 2070, nine of the sites may receive 520 or more flooding events per year, equal to more than one flood a day.
By the end of the century, eight of the bases could lose 25 percent to 50 percent of their land as rising sea levels encroach on coastal territories. Half or more of the land at about half of the 18 installations would be considered in the zone of daily high tides.
"The most severely affected installations are Naval Air Station (NAS) Key West in Florida, Joint Base Langley-Eustis and NAS Oceana Dam Neck in Virginia, and Marine Corps Recruit Depot (MCRD) on Parris Island in South Carolina," according to the report.
"These installations lose between 75 and 95 percent of their land area, including utilized land and developed areas, by the end of the century in the highest scenario."
Other US military installations involved the analysis include Eglin Air Force Base and Naval Station Mayport in Florida; Hunter Army Airfield and Naval Submarine Base Kings Bay in Georgia; Marine Corps Air Station Beaufort in South Carolina; Marine Corps Base Camp Lejeune in North Carolina; Naval Station Norfolk in Virginia; Joint Base Anacostia-Bolling and Washington Navy Yard in Washington, D.C.; the US Naval Academy in Maryland; US Coast Guard Station in New Jersey; and Portsmouth Naval Shipyard in Maine.
While the UCS focused on 18 installations, it said sea-level rise would impact far more military holdings.
"A roughly three-foot increase in sea level would threaten 128 coastal [US Department of Defense] installations in the United States (43 percent of which are naval installations, valued at roughly $100 billion) and the livelihoods of the people — both military personnel and civilians — who depend on them."
The moderate and high projections of sea-level rise used in the analysis came from the National Climate Assessment, an interagency government report that considers the potential effects of climate change on the US. The moderate or intermediate scenario involves a 3.7-foot sea-level rise above 2012 levels by 2100, while the high scenario assumes a 6.3-foot sea-level rise caused by melting ice sheets.
"Many of the installations we looked at can expect to lose a great deal of their land to the future high tide line," said Astrid Caldas, a scientist with the UCS Climate and Energy Program. "And when a hurricane strikes, the flooding is projected to be substantially deeper at many sites. Flooding obviously won't be confined to the installations."
The analysis reported that the military's current preparedness for rising sea levels is insufficient. The UCS called on military officials "to understand how sea level rise may permanently alter the landscape and where the threat of storm surge may become intolerable."
To combat the looming dangers of climate change, UCS recommended the Department of Defense develop and distribute high-resolution hurricane and coastal flooding models, fund data monitoring systems, boost mapping and planning initiatives at installations, and prepare to continually support ongoing efforts and resource allocation in the decades to come.
"Depending on how fast sea level rises in the second half of this century, tidal flooding will become a daily occurrence in some areas; that is, those places become part of the tidal zone as opposed to useable land," said Erika Spanger-Siegfried, lead author of the report and senior climate analyst at UCS. "This also depends on how installations respond and whether they have the resources to adapt."
The Department of Defense manages more than 1,200 military installations around the US and actively analyzes climate change impact on its holdings through its Strategic Environmental Research and Development Program.
One year ago, a Pentagon report took into account climate change's potential for causing or exacerbating chaos around the world. "Global climate change will aggravate problems such as poverty, social tensions, environmental degradation, ineffectual leadership and weak political institutions that threaten stability in a number of countries," the Department of Defense said.
You can share this story on social media: