Bill Clinton caught napping during Hillary's historic nomination speech (VIDEO)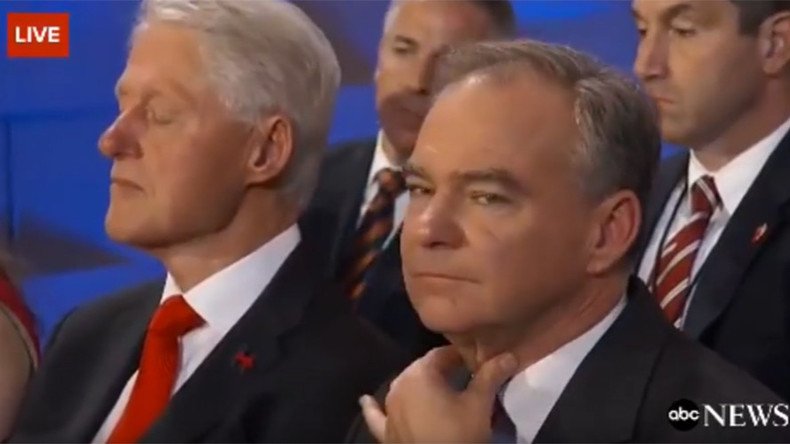 As his wife Hillary Clinton was busy shattering the glass ceiling of US party politics, former president Bill appeared to get some shut-eye during the final night of the Democratic National Convention.
On a raucous Thursday evening in Philadelphia, Hillary Clinton became the first woman to accept the nomination of a major US party.
Talking up her plans to create a living wage and get tough with Wall Street, Clinton took frequent digs at Republican rival Donald Trump, much to the delight of the cheering crowd.
READ MORE: 'America is great because it's good:' Clinton mixes Sanders' ideas with some sweet words
"It's just not right that Donald Trump can ignore his debts, but students and families can't refinance theirs," she said.
But all the excitement appeared to have taken a toll on husband Bill, who was seated in the audience next to Democratic vice presidential nominee Tim Kaine.
As the topic turned to tackling Islamic State (IS, formerly ISIS/ISIL), the former US president seemed to nod off – perhaps already dreaming of a return to the White House.
The apparently exhausted former commander-in-chief also appeared nonplussed about an awkward Kaine fidgeting next to him, who at one point seemed to be trying to block the convention cameras' view of the napping ex-president.
But not even a slight faux pas by her husband could spoil Hillary's big moment.
Twitter users have zeroed in on Clinton's gleeful reaction to the celebratory balloons, with some expecting further fireworks as her presidential face-off with Donald Trump kicks off.
You can share this story on social media: