'America is great because it's good:' Clinton mixes Sanders' ideas with some sweet words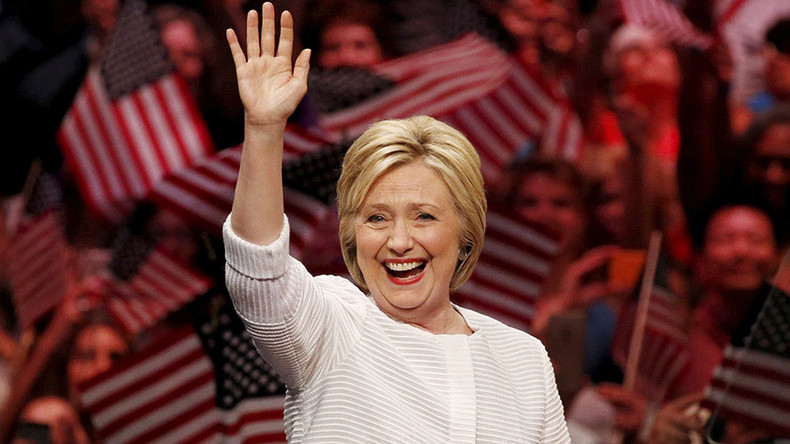 It was a speech full of Sanders-like Wall Street bashing and Trump ridicule. Something one would not expect from Hillary Clinton when she started down the campaign trail, and many were not convinced of her sincerity, no matter how white her suit was.
The closest thing to God himself, Morgan Freeman narrated Clinton's introductory video before she made her grand entrance to Rachel Platten's Fight Song.
Before officially accepting the Democratic Party's nomination, Clinton started off by taking quite a few pages from the playbook of her former opponent, Bernie Sanders, on issues like college tuition and Wall Street.
A wave of "Bernie!" chants spread through the crowd as Clinton thanked the senator, who was in attendance.
"I want to thank Bernie Sanders. Bernie, your campaign inspired millions of Americans, particularly the young people who threw their hearts and souls into our primary.
"You've put economic and social justice issues front and center, where they belong. And to all of your supporters here and around the country: I want you to know, I've heard you. Your cause is our cause."
Clinton adopted some of Sander's ideas in an attempt to woo his supporters, many of whom showed discontent with the Senator giving up his position
READ MORE: #IamwithNina Sanders supporters, including Susan Sarandon, Danny Glover protest suppression at DNC
"Bernie Sanders and I will work together to make college tuition-free for the middle class and debt-free for all!" she said.
While unsurprisingly foregoing any reference to her pricey top-secret Wall Street speeches, Clinton did seem to draw inspiration from her former Democratic competitor when promising to "follow the money!"
"Wall Street, corporations, and the super-rich are going to start paying their fair share of taxes. Not because we resent success. Because when more than 90% of the gains have gone to the top 1%, that's where the money is.
"And if companies take tax breaks and then ship jobs overseas, we'll make them pay us back. And we'll put that money to work where it belongs… creating jobs here at home!"
Many US companies moved their headquaters abroad under Obama.
However, Clinton didn't once mention the Trans-Pacific Partnership agreement (TPP), an Obama-nurtured trade deal that critics say will damage American workers and benefit only corporations. Protests against TPP lasted throughout the entire DNC.
READ MORE: 'No on TPP': Hecklers disrupt Obama's DNC speech
Of course Clinton didn't hold back any punches when it came to her political nemesis, Republican candidate Donald Trump, "A man you can bate with a tweet, is not a man you can trust with nuclear weapons," she taunted.
"Trump suits in Mexico, not Michigan. Trump furniture in Turkey, not Ohio. Trump picture frames in India, not Wisconsin.
"Donald Trump says he wants to make America great again – well, he could start by actually making things in America again," she declared.
Clinton accused Trump of being "in the pocket of the gun lobby" and took the opportunity to address the hot topic herself.
"I'm not here to repeal the 2nd Amendment; I'm not here to take away your guns. I just don't want you shot by someone who shouldn't have a gun in the first place," she said.
Unlike her Republican opponent, Clinton painted a pretty rosy picture of the state of US economy, not mentioning unemployment even once.
"And in the end, it comes down to what Donald Trump doesn't get: that America is great – because America is good," she asserted.
Clinton then went on to lambast Trump for shelling out empty promises, without actually putting forward any ideas or solutions herself.
"So enough with the bigotry and bombast. Donald Trump's not offering real change.
"He's offering empty promises. What are we offering? A bold agenda to improve the lives of people across our country – to keep you safe, to get you good jobs, and to give your kids the opportunities they deserve," she said.
With many in the audience crying, Clinton emphasized the history making nature of the nomination:
"Tonight, we've reached a milestone in our nation's march toward a more perfect union: the first time that a major party has nominated a woman for President. When there are no ceilings, the sky's the limit."
A common thread throughout Thursday's convention was family. Chelsea Clinton introduced her mother, after doing her best to paint a picture of the "loving," "hilarious" grandmother she knows.
Hillary started her speech by thanking her daughter and husband Bill, who she called her "Explainer-in-Chief" of the last 45 years – before referencing the good times and (cough, Lewinsky, cough) "hard times that tested us."
And just like that, Katy Perry's Firework blasts through the arena as Clinton and Kaine wave to the cheering crowd through a flurry of red balloons. As you do.