'No more war!' Bernie Sanders supporters interrupt Panetta's speech at DNC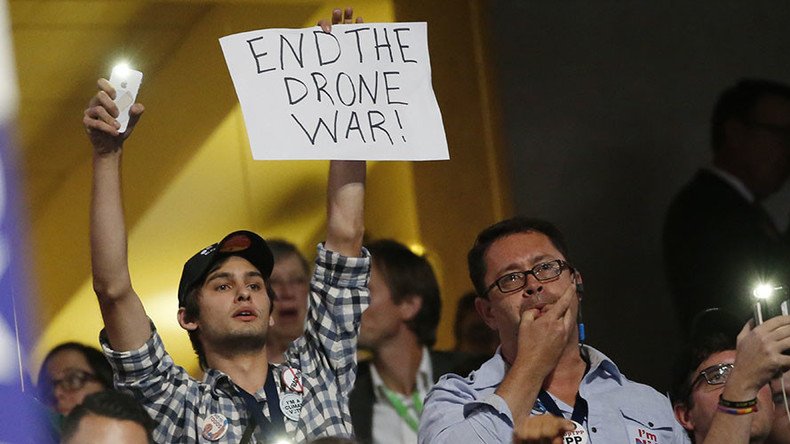 Supporters of Bernie Sanders interrupted a speech being made by former defense secretary Leon Panetta at the Democratic National Convention (DNC), with delegates loudly chanting "No more war!" and "No more drones!"
READ MORE: DNC protesters, police clash; 7 arrested jumping security fence
The roaring disruption came from the Oregon and Washington delegates, who shouted "No more war!" as Panetta spoke at the podium. Both states were won by Sanders at the Democratic presidential primary.
Other groups soon joined in, chanting "Love not war!" and "No more drones!"
The delegates were soon drowned out by many others who were screaming "USA!"
The chants began when Panetta attempted to criticize Republican presidential nominee Donald Trump for saying he hoped Russia had its hands on Hillary Clinton's private emails.
"Today, Donald Trump once again took Russia's side," Panetta said. "He asked the Russians to engage in American politics."
READ MORE: MSM warns Americans against Russia's 'hacking attack' following Trump 'invitation'
As the voices grew louder, Panetta was caught off-guard and appeared confused. He then paused and waited for the chants to stop.
Are people protesting with their cell phone flashlight? You showed them! #DNCinPHL

— Mac (@TheMactastic) July 28, 2016
As the speech continued, the lights over the Oregon and Washington sections were dimmed to further drown out Sanders' supporters.
In response, protesters raised up their cell phones, lighting up their screens in an effort to be seen.
Panetta's speech was meant to bring attention to Clinton's national security intentions.
Other loud chants coming from California delegates interrupted retired Rear Adm. John Hutson's speech, who also took the chance to criticize Trump and his foreign policy plans.
You can share this story on social media: