IRS looking into Clinton Foundation over 'pay-to-play' allegations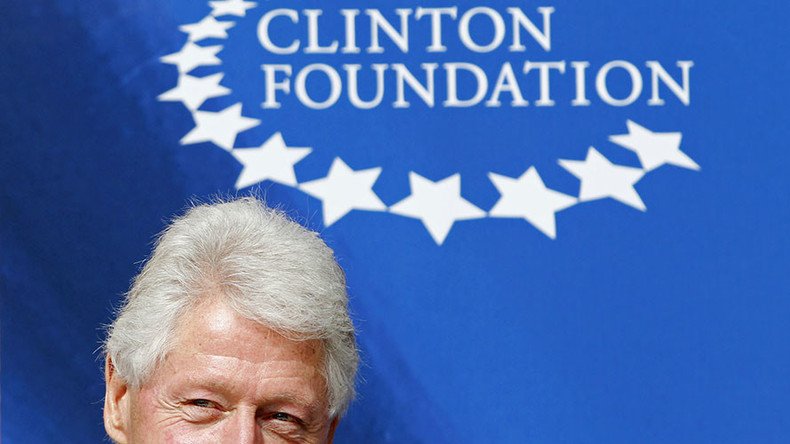 The IRS confirmed it has referred claims of "pay-to-play" practices at the Clinton Foundation to its exempt operations for review.
IRS Commissioner John Koskinen wrote to House Republican Marsha Blackburn (Tennessee) to inform her that the issue had been "forwarded" to the IRS "Exempt Organization Examinations" program in Dallas.
"This program considers all referrals and will send you a separate acknowledgement when it receives your information," Koskinen wrote in a letter dated July 22, first reported by the Daily Caller.
However, it is not clear whether the agency will take any further action and the agency noted that, under the law, it cannot reveal "any actions we may take on this information."
The request for a review came from 64 House Republicans led by Tennessee Representative Marsha Blackburn, who have tasked the IRS, FBI, and Federal Trade Commission with examining the dealings of the Foundation.
"From the information we have been able to gather, it appears the Clinton Foundation is a 'pay-to-play' sham charity that needs to investigated," Blackburn said in a statement on Tuesday, according to Fox News. "The Clintons have used their Foundation to personally enrich themselves at the expense of American foreign policy. At a minimum, the Foundation's tax-exempt status needs to be reviewed and revoked immediately."
A Clinton Foundation source told the Daily Caller, which had claimed there was an IRS investigation in progress, that "nowhere does this letter say that there's an investigation, or that the IRS is even considering an investigation."
In a July 15 letter from House Republicans to the IRS requesting a review, lawmakers claimed that there was a potential for "public corruption" at the nonprofit foundation headed by the Clintons.
READ MORE: Clinton Cash author said if Clinton becomes president money will flow to family
Specifically, congressional representatives wanted the Foundation's claim that former Secretary of State Hillary Clinton "was not involved in the work of the Foundation when she was Secretary of State" to be examined. Media reports have suggested the Justice Department is investigating a link between her official actions and Foundation's activities. Republican legislators were also curious about reports that the Foundation had failed to report "millions of dollars in grants from foreign governments between 2010 and 2012 when Hillary Clinton was Secretary of State."
The letter also refers to three controversies brought up in a book by Peter Schweizer entitled Clinton Cash that found inconsistencies in the Foundation's initial 501(c)(3) filing, suspicions regarding the sale of a company called Uranium One, and questionable ties between the Clintons' and Laureate International Universities, a for-profit education company.
One of the controversies raised in the book involves $16.5 million that former Bill Clinton accepted as honorary chancellor at Laureate International Universities, founded by Douglas Becker, which also gave the foundation $1 to $5 million. Bloomberg News reported that the US Agency for International Development, a State Department appendage, gave more than $55 million in grants to Becker's International Youth Foundation while Hillary Clinton served as Secretary of State.
Clinton campaign spokesman Josh Schwerin told Fox News in a statement that "this is another baseless political attack from House Republicans who just spent two years and $7 million of taxpayer money on the sham Benghazi Committee and are now just regurgitating the debunked claims from the widely discredited book 'Clinton Cash.'"
You can share this story on social media: