Officer involved in Sandra Bland arrest claims he was forced into silence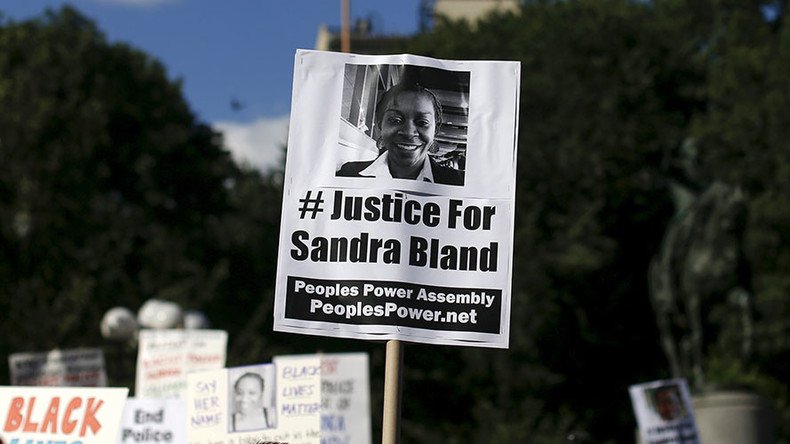 Sandra Bland's death in a jail cell has shined a light on the police departments involved in her arrest, but one officer claims he knew more than he was allowed to say and blames the district attorney for keeping him silent.
In a recorded conversation with activist DeWayne Charleston, Prairie View police officer Michael Kelley claims that he had wanted to share certain information about Bland's arrest, but was scared into silence.
"I wanted to testify on Sandra Bland's behalf and they told me if I said anything they're going to come after me," Kelley said in Charleston's recording.
Kelley claims that he was present when former state trooper Brian Encinia – who has since been fired for assaulting an officer – arrested Sandra Bland.
Bland was first allegedly stopped by police for failing to signal before changing lanes, but the situation quickly escalated. Encinia claimed she was "argumentative and uncooperative" during the stop, prompting him to remove his Taser from its holster and threaten her, saying, "I will light you up." She was then forcibly removed from her vehicle and slammed on the ground.
Kelley told Charleston that Encinia lowered his microphone when he was out of earshot of the car and told his supervisor, "I have no idea what I'm going to arrest her for, but we'll figure it out when we get to the county jail."
Kelley also claims that information he submitted in a written statement to the Prairie View police chief was excluded from the official Department of Public Safety report.
Bland was charged with assaulting an officer. Encinia claimed she swung her elbows and kicked him in the shins. Whether or not those alleged injuries were sustained during the very physical arrest remains unknown.
Waller County District Attorney Elton Mathis categorically denied Kelley's claims. In an email to the Houston Chronicle, he wrote:
"I unequivocally state that he never approached me, my first assistant, or any member of my staff with any such information," Mathis wrote in an email to the Houston Chronicle. Mathias also denied intimidating Kelley, saying, "His job was never threatened by me or my staff, and I barely knew who he was before he was indicted."
He also disparaged Kelley, saying, "These matters will ultimately be decided by judges/juries in the state and federal courts, and we anxiously look forward to resolutions and the truth being presented in the courts of law, not the tabloids, and not at the behest of those that seek to profit financially or personally off of Ms. Bland's death."
Kelley is currently facing charges of official oppression for using a Taser on a Prairie View city council member who was allegedly not following police orders. A grand jury decided not to indict the councilman on charges of resisting arrest, however.
You can share this story on social media: