'I look forward to roll call': Sanders addresses disappointment of his supporters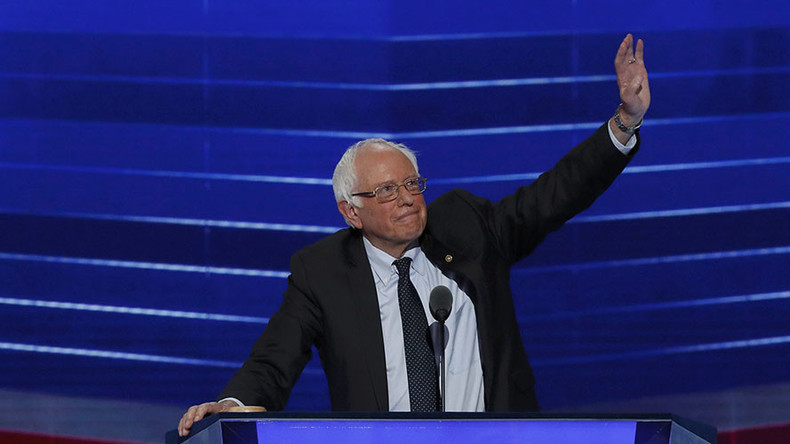 Senator Sanders enjoyed a thunderous response from his supporters Monday night at the Democratic National Convention. Many could not hold back tears of disappointment. Having gone through the cornerstones of his campaign, Sanders praised Clinton as an "outstanding" president-to-be.
Senator Sanders, who was welcomed to the stage by deafening cheers and thunderous applause, began his speech with words of gratitude for the "13 million Americans" who voted for him.
READ MORE: 50+ handcuffed at DNC as thousands protest Clinton's nomination (VIDEO)
"Together, my friends, we have begun a political revolution to transform America and that revolution – our revolution – continues," he said to his supporters, urging them to back his main rival and now campaign-mate Hilary Clinton.
Turning to his delegates, Sanders said: "I look forward to your roll call votes tomorrow."
Having officially endorsed Clinton two weeks ago, Senator Sanders made no bones about their differences.
Sander nevertheless praised Clinton's "ideas and leadership," saying that "she must become the next president of the United States," adding "the choice is not even close."
Speaking through cheers and boos, Sanders went on to lambast GOP presidential nominee Donald Trump for "fear-mongering,""name-calling, and divisiveness."
"We need leadership which brings our people together and makes us stronger – not leadership which insults Latinos and Mexicans, insults Muslims and women, African-Americans and veterans, and seeks to divide us up," he said, at first keeping his reference anonymous, but clear.
In an address to his supporters and the whole convention floor that lasted over 30 minutes, Sanders hit on the major points of his campaign, from minimum wage to education, health care to taxes, the Trans-Pacific Partnership free trade deal to climate change.
Throughout his speech, Sanders urged the crowd to build a "strong Democratic platform" and vote for Clinton in November in order to stop Trump.
"Hillary Clinton will make an outstanding president, and I am proud to stand with her here tonight. Thank you all, very much," Sanders said.