'Questionable benefit': TPP trade deal viewed with suspicion by Australian economic commission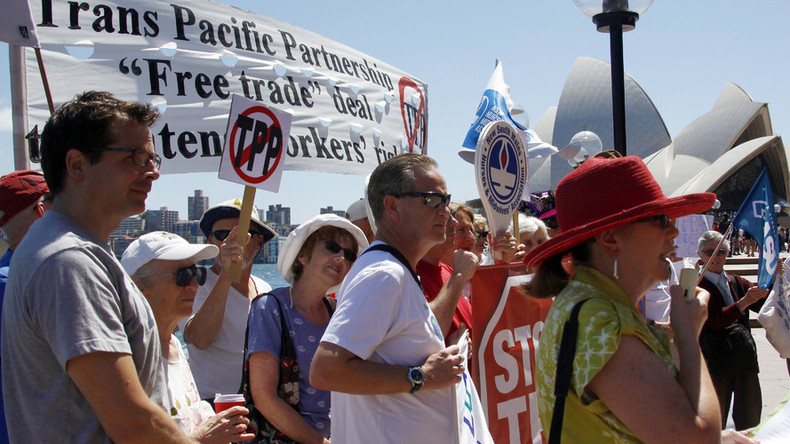 Provisions in Trans-Pacific Partnership trade deal that would allow corporations to sue governments for passing laws that hinder their economic profits are being criticized in a new report.
In its annual report on trade and industry assistance that was released on Monday, the Productivity Commission — Australia's "independent research and advisory body on a range of economic, social and environmental issues affecting the welfare of Australians" — expressed skepticism the pact's investor-state dispute settlement (ISDS) provisions, which would allow corporate entities to sue participating governments for any regulation or law that allegedly hinders their commercial profits.
"There are provisions in the TPP that the Commission has previously flagged as of questionable benefit," the report, titled Trade & Assistance Review 2014-15, reads. "These include term of copyright and the investor state dispute settlement elements."
Later in the report, the Commission says outright that Australia "should seek to avoid the inclusion of Investors-State Dispute Settlement (ISDS) provisions in bilateral and regional trade agreements that grant foreign investors in Australia substantive or procedural rights greater than those enjoyed by Australian investors."
The Commission also said any intellectual property provisions in trade deals such as the TPP "should be informed by a robust economic analysis of the resultant benefits and costs" by the Australian government.
Australia signed the TPP deal in February, though ratification by the Australian Parliament has yet to take place. The TPP involves 12 Pacific Rim nations, including Australia, Brunei, Canada, Chile, Japan, Malaysia, Mexico, New Zealand, Peru, Singapore, the United States, and Vietnam. These nations account for about 40 percent of global GDP.
The Commission's head, Paul Lindwall, said there is recent precedent for the Australian government concerning ISDS provisions. Based on the Hong Kong-Australia investment treaty signed in 1993, the Australian government's decision in 2012 to implement plain packaging laws on cigarettes resulted in a multi-year ISDS case with tobacco behemoth Philip Morris. An international tribunal eventually ruled in Australia's favor in May of 2016, but not before the nation had paid out $50 million in legal costs.
"As it was resolved on a technicality, and costs are apparently yet to be recovered, this success should not be taken as an indication that ISDS is essentially harmless," Lindwall said Monday, while drawing conclusions about the "first investor-state dispute brought against Australia."
The Commission wrote that "it is uncertain whether the United States will sign the TPP" prior to its presidential election this year. Both Democratic candidate Hillary Clinton and Republican nominee Donald Trump have expressed opposition to the deal, which has been crafted largely in secret by the 12 nations. Any indications of what's in the agreement have come from leaked drafts of the pact's chapters.
The economic benefits of the deal are geared towards insulating corporations and industry, rather than the workers of the participating nations, opponents say. Labor unions, among many others, have lined up to oppose the TPP based on concerns over a number of issues, including currency manipulation, environmental and health protections, food safety, pharmaceutical monopolies, the offshoring of jobs, government transparency, internet privacy, and weakening of local governmental control.
The deal has also been criticized for its lack of transparency, as the contents of the TPP have been kept in strict secrecy. Leaked drafts of TPP negotiations have suggested that corporations would be allowed to sue governments in private courts over lost profits due to regulation, elevating corporate entities to the status held by sovereign nations.
Those leaked terms suggest that multinational companies and major industries, such as Big Pharma operating in North America, South America, and Asia, will be granted broad powers to challenge the regulations of sovereign nations, as well as their governments' rules, actions and court rulings – be they on the federal, state, or local level – before tribunals organized under the World Bank or the United Nations. This system has been called the "investor-state dispute settlement" (ISDS) system.
Opponents also say TPP is less about trade and more about geopolitical maneuvering and further corporate domination over the participating nations' trade and investment affairs.
The US-led trade pact has been hailed by the Obama administration as good for American workers and a way to build economic relations among the US and nations that surround its economic rival, China.
In addition to its role as an independent research and advisory body within the Australian government, the Productivity Commission says its essential mission "is to help governments make better policies, in the long term interest of the Australian community."