Trump: Germany, France plagued by terror 'because they allowed people to come in'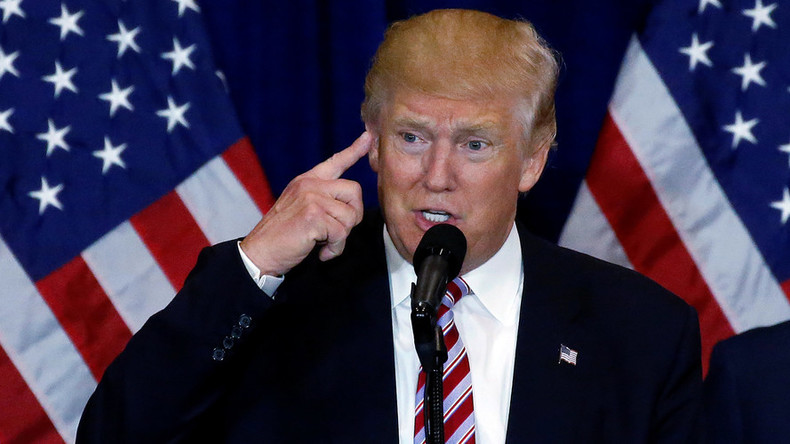 Republican presidential nominee Donald Trump said countries such as France and Germany have been recently plagued by terrorism "by their own fault" because "they allowed people to come into their territory."
Trump mentioned "specific problems" in Germany and France during his 'Meet the Press' interview on NBC, and was asked to shed more light on his proposal to suspend immigration into the US from certain countries.
"I'm going to be coming out over the next few weeks with a number of the places," Trump said. "We have problems in Germany, we have problems in France..."
Host Chuck Todd intervened, pointing out that these countries "have been compromised by terrorism."
"They have totally been," Trump replied. "And you know why? It's their own fault. Because they allowed people over years to come into their territory. That's why Brexit happened. The UK is saying, 'We're tired of this stuff.'"
"We have to be smart, and we have to be vigilant, we have to be strong, we can't be the stupid people," the US billionaire noted.
"Here is what I want: extreme vetting. Tough word. We have to have tough, we're going to have tough standards," Trump warned. "If a person can't prove what they have to be able to prove, they're not coming into this country. And I would stop the Syrian migration and a Syrian from coming into this country in two seconds," he added.
Last week Trump vowed to "immediately suspend immigration from any nation that has been compromised by terrorism until such time as proven vetting mechanisms have been put in place."
"We don't want them in our country," he told delegates at the Republican National Convention in Cleveland on Thursday.
Slamming the Obama administration's decision for continuing to admit refugees from Syria and Hillary Clinton's vows to uphold the practice, Trump stated: "My opponent has called for a radical 550 percent increase — think of this, this is not believable, but this is what is happening — a 550 percent increase in Syrian refugees on top of existing massive refugee flows coming into our country already under the leadership of President Obama."
"I only want to admit individuals into our country who will support our values and love our people. Anyone who endorses violence, hatred or oppression is not welcome in our country and never ever will be," he said.
WATCH MORE: