Burned body found at California 'Sand Fire' site as raging flames consume 20k acres (PHOTOS, VIDEOS)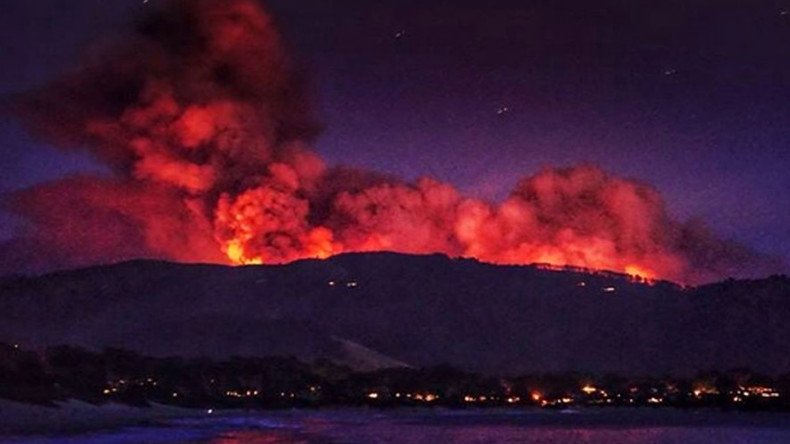 A charred corpse has been found in an area of Santa Clarita, California, under threat from wildfires that have consumed over 20,000 acres. Firefighters are struggling to contain the fire that has raged since Friday.
The body was found on Iron Canyon Road, an area of Santa Clarita that authorities had ordered to be evacuated. A resident in the area told KTLA that the deceased man was found burned in a car after being separated from his partner.
Homicide detectives are investigating the death, according to a statement from police.
The resident, who claims to be a neighbor of the deceased, told KTLA that the victim's house was destroyed by the fire. The Los Angeles County Fire Department said in a statement online that structures had been destroyed by the fire, but did not confirm any addresses.
Some 1,500 homes have been threatened by the wildfire which began north of Los Angeles in Sand Canyon on Friday, giving it the name 'Sand Fire'. Dry conditions and gusty winds aided the rapid expansion of the fire as it increased to 11,000 acres on Saturday morning before growing to 20,000 acres.
READ MORE: California wildfires force mass evacuations, prompt warnings of extreme danger
Firefighters are currently reporting that 10 percent of the fire has been contained.
Authorities issued a warning asking residents not evacuated but affected by ash in the air to avoid vigorous outdoor activity and for children and those with respiratory issues to remain indoors.
Dramatic footage and images from 14 Freeway showed the flames coming close to the side of the road. Around 300 firefighters are currently fighting the fire from the ground and air.
An animal sanctuary in Sylmar appealed online for help after its property came under threat from the fire. Volunteers helped to transport 400 animals including lions, tigers and bears from the Wildlife WayStation to an area a safe distance from the fire.
READ MORE: 'Heat dome' set to envelope US with sizzling temperatures
You can share this story on social media: