Homeland Security detains US journalist returning from Beirut, tries to confiscate phones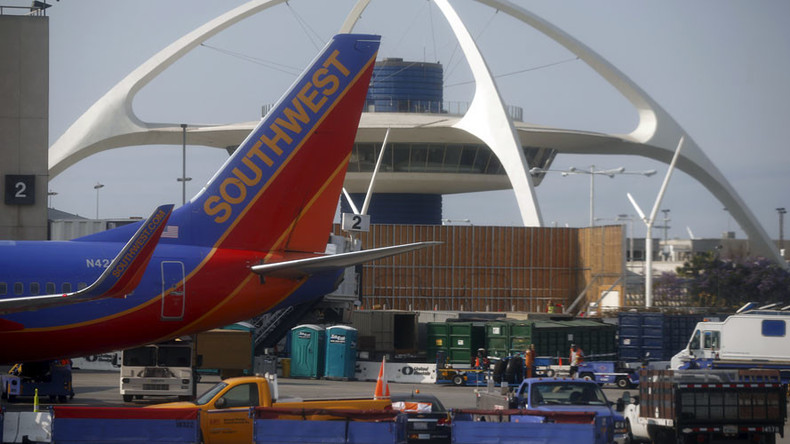 A Wall Street Journal (WSJ) reporter returning from Beirut was taken into holding, grilled and asked to hand over her phones by the Department of Homeland Security at Los Angeles International Airport.
When the journalist, Maria Abi-Habib, returned from Beirut, it was another ordinary work trip. But after touching down at LAX in Los Angeles, she was treated as a dangerous suspect by the service, which now enjoys broad authority at airports.
She outlined the ordeal in a Facebook post, largely focusing on the dangers of the loss of privacy and the risk to journalistic work emerging out of the DHS practice.
As soon as she joined the line for immigration, a friendly officer walked up, giddily saying "Oh, there you are. I was trying to recognize you from your picture. I'm here to help you get through the line." The friendly greeting by the female agent was only offset by the fact of how much she already knew. As Abi-Habib explains:
"The DHS agent went on to say she was there to help me navigate immigration because I am a journalist with The Wall Street Journal and have travelled to many dangerous places that are on the US' radar for terrorism. She independently knew who I worked for and my Twitter account, countries I'd reported from (like Iraq) and even recent articles I'd written -- I told her nothing about myself."
But to a journalist already on the US Immigration list, this was unsurprising. Abi-Habib was put on the list precisely because of her line of work, and it had previously served to help her navigate customs more quickly.
But this time was different. After being escorted to baggage claim, she was led into a closed-off section of LAX into a room, where another DHS agent was already waiting.
"They grilled me for an hour - asking me about the years I lived in the US, when I moved to Beirut and why, who lives at my in-laws' house in LA and numbers for the groom and bride whose wedding I was attending."
Although she took this all in high spirits – given her previous work experience with security checks – Abi-Habib's story quickly took a darker turn when the DHS officers asked her for her two mobile phones, saying they needed to "collect information," though didn't say about what.
Abi-Habib tried to explain that this not only violated her First Amendment rights, but exposed the professional sources she was protecting as a journalist. Although the words are nothing out of the ordinary for the profession, the DHS officer questioning her shot back: "Did you just admit you collect information for foreign governments?"
Shocked, Abi-Habib replied: "No, that's exactly not what I just said," as she proceeded to protest the confiscation of the phones.
That is when the real shock came. Abi-Habib was promptly handed a DHS document, which outlined that the service could deprive her of her rights as a US citizen at any border, and that the authority extended up to 100 miles (160km) from the border inside the actual country.
"So, all of NY city for instance," she writes. "If they forgot to ask you at JFK airport for your phones, but you're having a drink in Manhattan the next day, you technically fall under this authority. And because they are acting under the pretence to protect the US from terrorism, you have to give it up."
READ MORE: DHS analyst caught with weapons, may have planned violence against senior staff – court documents
Abi-Habib tried a different tactic – revealing that the phones were the property of the Wall Street Journal, and that the service would need to contact the paper's attorneys to obtain permission. At that point things became potentially even more dangerous. The DHS now accused her of impeding the investigation.
That is "a dangerous accusation," she wrote, "as at that point, they can use force."
"She said she had to speak to her supervisor about my lack of cooperation and would return," she wrote, as another officer remained.
The female officer returned 30 minutes later and said Abi-Habib was free to go.
"I have no idea why they wanted my phones – it could have been a way for them to download my contacts. Or maybe they expect [sic] me of terrorism or sympathizing with terrorists – although my profile wouldn't fit, considering I am named Maria Teresa, and for a variety of other reasons including my small child."
The DHS' expanded powers are coming under increasing scrutiny in an age when all of one's most private information is carried in their back pocket – not to mention sensitive work-related information. But as Abi-Habib later found out, the DHS was indeed perfectly within its right to deprive a citizen of their rights for up to 100 miles within US borders – a law that was "quietly passed" in 2013.
"This legislation also circumvents the Fourth Amendment that protects Americans' privacy and prevents searches and seizures without a proper warrant," she explains, adding that using encryption is now practically a must – although even then is not a guarantee, seeing as some apps will reveal the identity of the recipient, if not the chat history.
"Never download anything or even open a link from a friend or source that looks suspicious. This may be malware, meaning that they have downloaded software on your phone that will be able to circumvent the powers of encryption," Abi-Habib warns after speaking to an encryption expert.
She also advises to "travel naked" – an expression which a tech-savvy acquaintance used. That means not taking a sensitive phone with you – only the SIM card - and using it in a 'clean' phone. All sensitive numbers should also be written on paper.
Abi-Habib's story follows a wave of controversy over special powers now afforded to US agencies at the border. A new proposal to ask visitors for their "social media identifier" could help border agents search your background without having to go to the National Security Agency (NSA), it turned out late June.
Customs and Border Protection (CBP), which is part of the DHS, believes having this "identifier" could help it find "possible nefarious activity and connections."
The public consultation process for that proposal will expire August 22. If successful, the social media information would be gathered in addition to the numerous database checks, fingerprinting, and face-to-interviews that already take place. How it would be processed is not revealed in the proposal and providing the information would be voluntary.
You can share this story on social media: