DHS analyst caught with weapons, may have planned violence against senior staff – court documents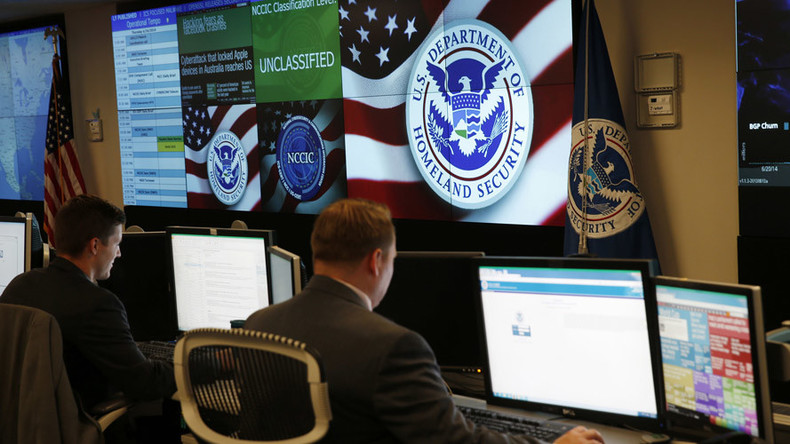 A federal investigation is on after a top-secret clearance staffer with Homeland Security was apprehended with a gun and other weapons. Authorities are investigating whether the individual was planning to commit violence against senior DHS staff.
According to court documents, on June 9, John Wienke, an analyst at the Office of Intelligence and Analysis, was caught red-handed with a gun, a knife, an infrared camera, pepper spray, two walkie-talkies and handcuffs, AP reports.
Wienke was busted entering the office at 7:30am with a backpack. The DHS boasts the same kind of security one might see at the Pentagon or the White House. This includes random screenings on entry. Wienke's backpack aroused suspicion at the door, leading to the discovery of the suspicious objects.
According to court documents, investigators have reason to believe Wienke "was conspiring with another to commit workplace violence, and more particularly may have been conspiring or planning to commit violence against senior DHS officials in the building." An affidavit accompanying the search warrant for his apartment outlined the reasons the investigation thought this was the case.
When Wienke entered the office in the morning, he was allowed through, as no handgun had been discovered at the time (only the knife and pepper spray were seized). It was only at 9:30am that authorities decided to follow up with him at his cubicle, which included a pat down. That is when the .22-cliber five-shot was discovered, loaded with hollow-point bullets.
Wienke really took his chances by letting the officers search him – he even admitted to not having any additional weapons apart from those discovered earlier upon entry into the building.
At the moment the gun was discovered Wienke is said to have "[uttered] an audible expletive." Right across from his cubicle in clear view, senior DHS officials were holding a meeting.
The next day, on June 10, all Wienke was charged with was illegal firearms possession. The US Attorney's Office for DC refused to comment on the court allegations, but said Wienke was released on June 13 pending further investigation.
The FBI is now intent on charging Wienke with conspiracy to assassinate, assault or kidnap a member of the executive branch of the government, as well as false impersonation of a federal officer, aside from possessing a firearm on federal premises, according to the affidavit,
He pleaded not guilty to possessing the gun.
DHS spokesman Scott McConnell said Wienke has been placed on administrative leave.
The FBI is refusing to divulge any more details at this time.
You can share this story on social media: