US Navy's costliest-ever carrier USS Gerald Ford 'unlikely to succeed in combat' – leaked DoD memo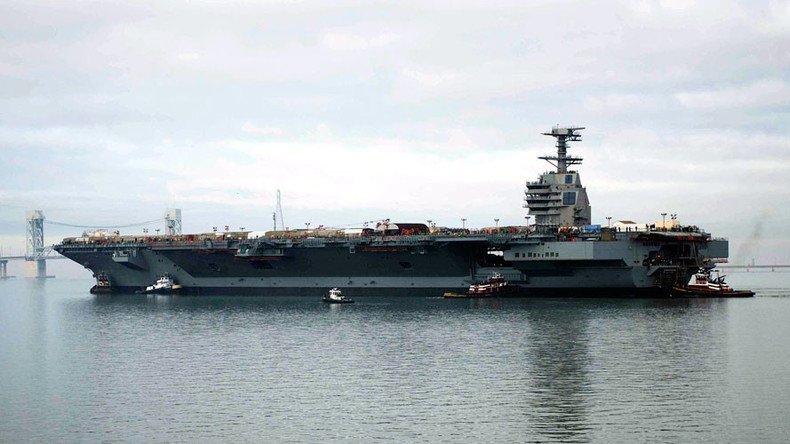 Some of the USS Gerald Ford's critical combat systems are "poorly reliable," making the Navy's most expensive warship ever built unlikely to be ready for naval warfare, a Pentagon report reveals. Delivery of the carrier is already well behind schedule.
The reliability issues are so serious that the $13-billion USS Gerald Ford, hailed as the most technologically-advanced aircraft carrier ever built for the US Navy, would have to undergo redesign or face poor deployment capabilities, according to an internal Pentagon memo seen by Bloomberg.
"These four systems affect major areas of flight operations," the Defense Department's Director of Operational Test and Evaluation (DOTE), Michael Gilmore, wrote to the Pentagon and Navy weapons buyers Frank Kendall and Sean Stackley.
The USS Gerald Ford would have the latest innovations in military shipbuilding, including an enhanced flight deck, a smaller yet more-powerful nuclear reactor and cutting-edge radars.
Most notably, she features Electromagnetic Aircraft Launch System (EMALS) and Advanced Arresting Gear (AAG), which would replace older steam-powered catapults and save more below-deck space for the aircraft.
While not going into details, Gilmore's memo stated the carrier's AAG for snagging landing aircraft and her launch system, both made by San Diego-based General Atomics, are experiencing "different, but still inadequate levels of reliability."
The EMALS' reliability is higher, but "nonetheless I have concerns," Gilmore wrote, citing recent Navy data that the carrier can conduct only 400 launches between critical failures – "well below the requirement" of 4,166 take-offs.
Either system is critical to allow the aircraft's non-stop take-offs and landings in the midst of combat, having an enormous impact on USS Ford's performance and her combat capabilities.
The arresting gear has the most serious failures and is "unlikely to support high-intensity flight operations," Gilmore stressed. Its reliability "is well below expectations and well below what is needed to succeed in combat."
Reliability of Raytheon's dual-band radar used for air traffic control as well as aircraft and missile defense – literally, the ship's eyes and ears – is "unknown," the memo asserted. The system has never been fully tested at sea, while previous land tests involved use of software still under development.
READ MORE: Plagued by problems, F-35 nowhere near ready to fly
The ship's elevators used to move bombs between magazines and flight deck have been tested so rarely that "their reliability is unknown and is a risk," the report added. The USS Gerald Ford is designed to have 11 weapons elevators.
Reliability issues mean that delivery of the USS Gerald Ford – the lead ship of Gerald R. Ford class of three super carriers ordered up in a $42 billion program - would probably slip further behind schedule. The carrier, initially due by September 2014, would not be delivered before November this year despite the ship's construction was 98 percent complete as of June, according to Bloomberg.
The USS Gerald Ford (CVN-78) is expected to have up to 75 aircraft and a five-acre flight deck, able to carry 4,660 personnel and launch as many as 220 airstrikes per day from her two runways.
"She is truly a technological marvel," then-Chief of Naval Operations Admiral Jonathan Greenert said during a 2013 christening ceremony at the Newport News shipyard in Virginia. "She will carry unmanned aircraft, joint-strike fighters, and she will deploy lasers."
But current reliability estimates suggest "the CVN-78 is unlikely to conduct high-intensity flight operations" such as a requirement for four days of 24-hour operations "at the outset of a war," Gilmore's report concluded.
You can share this story on social media: