Obama orders review of ban on military-grade police equipment – report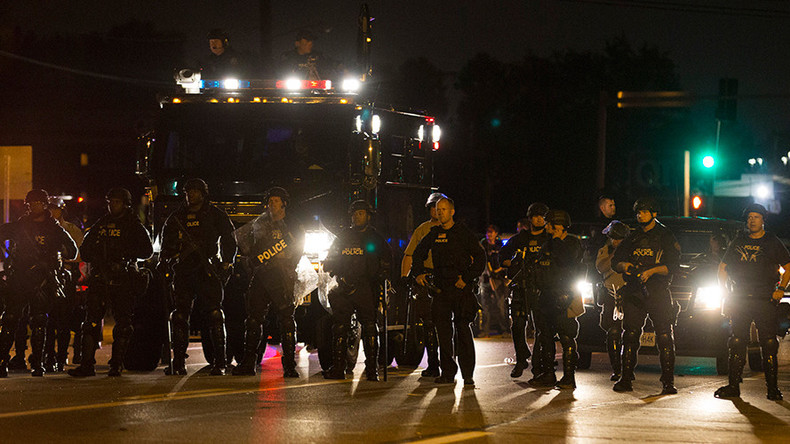 President Barack Obama is reportedly going to rethink his 2015 ban on military-grade equipment sales to law enforcement after eight police officers were killed in attacks in Dallas, Texas and Baton Rouge, Louisiana.
Two police organization directors have told Reuters that President Obama agreed to review each item that was put on the so-called "controlled equipment list," including tracked armored vehicles, grenade launchers, bayonets, explosives and riot equipment.
The ban was imposed in May 2015, amid growing tensions between police and minority communities, as protests grew in response to deadly police shootings of black men in Ferguson, Missouri, Baltimore and other cities. Officers used military-grade riot gear and armored vehicles in response to anti-police brutality protests.
Citing "a substantial risk" of police "overusing" and "misusing" military-style weapons, Obama blocked the government from selling such items, leaving police departments across the US to rely on the private market.
"The White House thought this kind of gear was intimidating to people, but they didn't know the purpose it serves," Jim Pasco, executive director of the Fraternal Order of Police, told Reuters.
READ MORE: Not just Dallas: Attacks in 3 states target cops for 2 days in row
However, in the wake of deadly attacks on police officers in Texas and Louisiana, the White House might reportedly reconsider its ban.
Reuters has also spoken to Bill Johnson, executive director of the National Association of Police Organizations. Both Johnson and Paso are among eight organization chiefs who sat down with Obama and Vice President Joe Biden at the White House in a meeting that came three days after 25-year-old Micah Johnson killed five police officers in Dallas. Just days later, three officers were shot dead Baton Rouge on July 17.
Pasco and Johnson have said that Obama requested White House chief legal counsel Neil Eggleston to review the ban.
READ MORE: 'Militarized tactics saved lives here' – Baton Rouge police chief
A White House official has told Reuters that the Obama administration regularly reviews military equipment that can be transferred to police, saying that under the current rules, police receive "the tools that they need to protect themselves and their communities while at the same time providing the level of accountability that should go along with the provision of federal equipment."
You can share this story on social media: