'Big milestone': Facebook test-flies solar-powered, internet-beaming drone (VIDEO)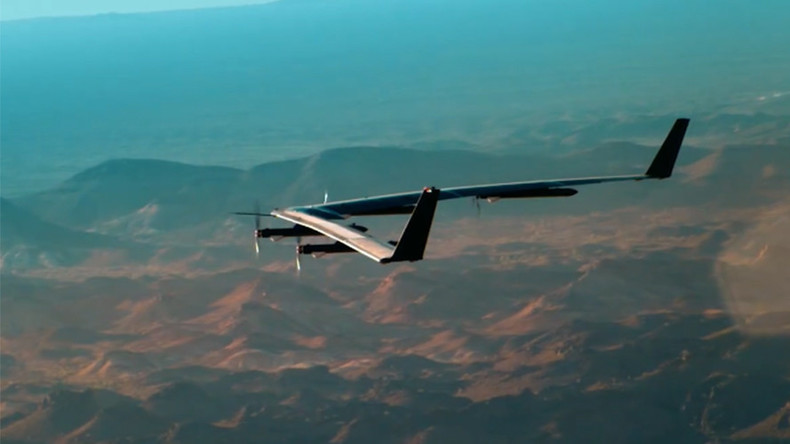 Launching its internet-beaming drone into the sky for the very first time, Facebook has reached new heights. Named Aquila, it may soon deliver internet access to billions of people in the world's remotest corners.
"Today Connectivity Lab announced a big milestone in this work: the first full-scale test flight of Aquila, our high-altitude unmanned aircraft," Facebook said in a statement.
Connectivity Lab has specifically been created to help Facebook CEO Mark Zuckerberg make good on his plan to allow as many people internet access as possible.
Facebook estimates that 60 percent of the global population – 4 billion people – live without internet. Over a billion-and-a-half of them live in areas so remote, that linking them to the global network would be time-consuming and expensive.
Facebook's solar-powered and internet-beaming "airplane" Aquila is meant to solve that problem.
When released into the skies, Aquila should be able to fly for up to three months at a time, blanketing the world's hardest-to-reach places.
On Thursday, Aquila took its first steps and has already proved to be "very successful." Instead of a planned 30-minute low-altitude flight, the drone managed to stay in the sky three times longer – for more than 90 minutes.
"We've been flying a one-fifth scale version of Aquila for several months, but this was the first time we've flown the full-scale aircraft," Facebook explained.
With a wingspan bigger than a Boeing 737, Aquila weighs hundreds of times less thanks to its carbon-fiber frame. Another advantage is its low power consumption. Solar powered, it is designed to consume only 5,000 watts, which is "about as much as three hair dryers."
"Each plane has almost 500lbs of batteries. That'll be enough to make it through the night," Zuckerberg said in a comment on his Facebook page. "The big question is how do we make it more efficient so it can use fewer batteries and therefore stay in the air longer? That's one problem we're still working on."
Facebook's drone will not interfere with civilian flights. Aquila would be much higher in the skies, hitting an altitude of between 60,000 and 90,000 feet, which is way above commercial air traffic as well as the weather.
Facebook plans to push Aquila to the limits in further tests in the coming months and years.
"In our next tests, we will fly Aquila faster, higher and longer, eventually taking it above 60,000 feet," the company said.
When Aquila achieves a three month non-stop flight, it will make Facebook a record breaker for solar-powered unmanned journey. So far, the record is two weeks.