Democratic delegate's 'sex tape' makes shocking appearance online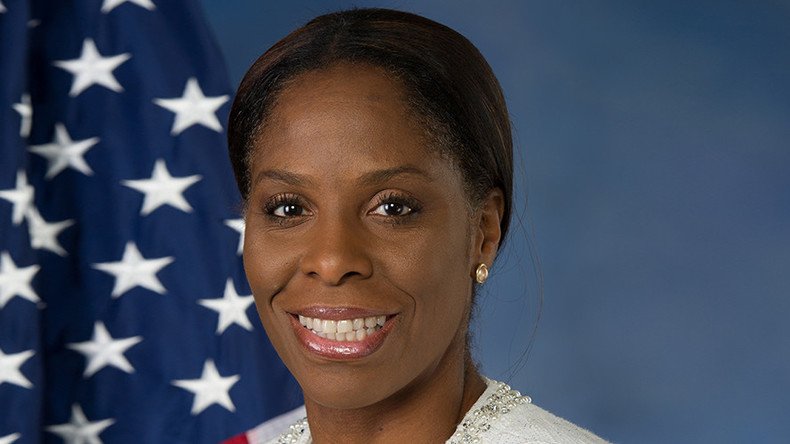 A "sex tape" of a Democratic delegate to Congress has leaked online, exposing Stacey Plaskett's intimate moments with her husband. Capitol Police and the FBI to are investigating, as the Virgin Islands politician blames "enemies" hacking her computer.
"I am shocked and deeply saddened that someone would stoop to such a level as to invade my marriage and the love of my family in an attempt to besmirch me politically," Plaskett, the Virgin Islands delegate, said in a statement.
Deeply saddened one wld stoop to such a level as to invade my marriage and the love of my fam in an attempt to besmirch me politically 1/2

— Rep. Stacey Plaskett (@StaceyPlaskett) July 21, 2016
She has confirmed that the "private" content that was briefly shared on a Facebook account were real pictures and "a playful video" showing both her and her husband.
READ MORE: Ted Cruz's doppelganger girl hired to star in $10k sex tape (VIDEO)

"Private photographs shared between my husband and me, as well as a private playful video of our family, including one of our children, were illegally obtained and disseminated via the internet," Plaskett said.
A topless selfie has also been reportedly circulating online.
Politico has reported that someone who saw the video described it as a "sex tape," but Plaskett aides rejected that wording.
The leaked content reportedly showed Plaskett's naked husband Jonathan Buckney-Small wearing eyeshadow and lipstick. The first-term delegate to Congress is heard speaking in the background while recording the video. According to Plaskett's statement, one of their children makes an appearance in the video as well.
READ MORE: 'Tatler Tory' scandal: Senior aide 'blackmailed' whistleblower with sex tape

The picture and the video were reportedly shared on a fake Facebook account late Wednesday night, but were soon deleted along with the account. However, those who noticed the photos as well as the video had enough time to share them and spread further online.
Plaskett has contacted the FBI and Capitol Police to investigate the leak. Jerome Murray, her chief of staff, confirmed to Politico than "an active investigation is underway to find out who committed this crime."
Working w/ Capitol Police and the FBI and I can confirm that an active investigation is underway to find out who committed this crime. 2/2

— Rep. Stacey Plaskett (@StaceyPlaskett) July 21, 2016
You can share this story on social media: