Finally, a Capitol Hill intern selfie that reflects American voters (PHOTO)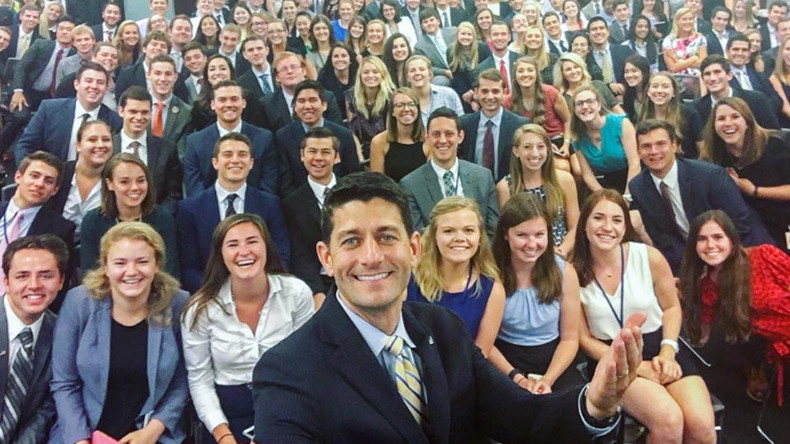 After Speaker of the House Paul Ryan's infamous #InternsSoWhite selfie went viral, a group of congressional interns hit the Capitol Hill steps to take their own selfie and prove to America that all hope is not lost.
Named "the least diverse selfie in history," Ryan's picture was criticized for failing to represent the diversity in the next generation of US politicians, as well as failing to reflect America's ethnically diverse population - and voters.
In response, Audra Jackson, an intern for Texas Democrat Representative Eddie Bernice Johnson, took a selfie of the Democratic interns to show both intern diversity - and that they're capable of taking their own selfie.
READ MORE: Paul Ryan struggles to convince many he supports Trump at RNC
An intern for Democratic Congressman Andre Carson, RJ Khalaf, said that the Instagram image doesn't tell the full story. He claimed that while it "shows [Ryan's] privilege and inability to see the lack of diversity," it doesn't show all of the Capitol Hill interns.
The gathering photographed by Ryan was part of the Congressional Summer Intern Lecture Series, Khalaf told USA Today, and the lecture was at capacity so interns from both parties were randomly selected to attend in a lottery.
The 2016 presidential election is set to see the most ethnically diverse group of voters in US history, according to The Pew Research Center. In fact, 31 percent of people registered for the November ballot are Hispanic, black, Asian or another racial or ethnic minority. Latino citizens, in particular millennials, are responsible for the spike the numbers (from 7 to 12 per cent).