'US can't lecture Turkey on rule of law': Trump praises Erdogan after coup attempt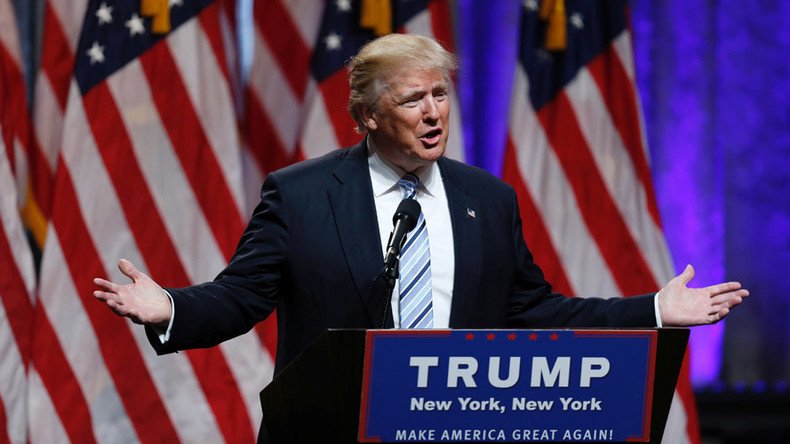 Republican presidential nominee Donald Trump has praised Turkish President Recep Tayyip Erdogan for quelling last week's uprising. As for the aftermath, Trump told The New York Times he believes the US can't "lecture" others on civil liberties.
Trump delivered his view as he went over his main campaigning points with The New York Times ahead of the Thursday convention. Most focused on a heavy redefinition of American roles with regard to military presence and spending in other countries.
"I give great credit to him for being able to turn that around," he said of Erdogan's actions Friday night in quelling a coup attempted by a group of rebellious military. He also chose not to criticize the Turkish leader for his tactics in the aftermath of the uprising, which have seen thousands of military, education, and government personnel imprisoned, dismissed or suspended.
"I don't know that we have a right to lecture. Just look about what's happening with our country. How are we going to lecture when people are shooting our policemen in cold blood? How are we going to lecture when you see the riots and the horror going on in our own country?" Trump said.
The Republican presidential hopeful also mused over pressing Ankara into securing civil liberties in the post-coup environment.
"When the world sees how bad the United States is and we start talking about civil liberties, I don't think we are a very good messenger," Trump explained. The Obama administration has so far appeared not to offer any strategy for dealing with Erdogan, with Turkey being a crucial ally in the region and home to American nuclear weapons.
Trump proposed to make a stronger case for Erdogan to work with the US on fighting Islamic State (IS, formerly ISIS/ ISIL), although there exists a problem in that the US also considers the Kurdish minority one of its strongest allies in doing so. Erdogan stands accused of striving to deny the Kurds a national identity.
"I'm a fan of the Kurds, you understand," Trump told the NYT.
On questions of security and America's global role, Trump focused on his predominantly economic outlook, proposing many revisions, including redefining Washington's relationship to both rivals and allies.
READ MORE: Trump shares awkward kiss with running mate (VIDEO)
This included the prospect, for the first time in decades, of taking away security guarantees the United States has renewed to its 27 NATO allies. In essence, this implied the US would throw its entire military weight behind any one ally if they were attacked.
"I would prefer to be able to continue [to renew America's pledges]," Trump said, but only if allies learned to adjust to the new reality that the US was no longer the key provider.
If elected president, Trump also said he would make sure the US only became involved in allies' security affairs if those nations "have fulfilled their obligations to us."
This is in line with his campaign rally cry of 'America First' – a platform which also implies a radical renegotiation of American relationships with its partners, including things such as the North American Free Trade Agreement and other long-standing US positions, particularly military spending.
As Trump was outlining what the US would or wouldn't do for its NATO allies, Moscow emerged with criticism of the approach he has used.
"Regarding the pointless use of an example about a hypothetical Russian attack on anyone, that was not an acceptable phrasing," Kremlin spokesman Dmitry Peskov told reporters.
The decision adds further weight to calls for the IOC to implement a blanket ban on Russia competing at next month's event in Brazil.
Matthieu Reeb has noted that the ROC will not be able to appeal the ruling in the Swiss Federal Court, which means that long-jumper Darya Klishina, who trains outside Russia, will be the only Russian track and field athlete cleared to compete in Rio.
You can share this story on social media: