US-led coalition to probe civilian deaths in Syria – defense secretary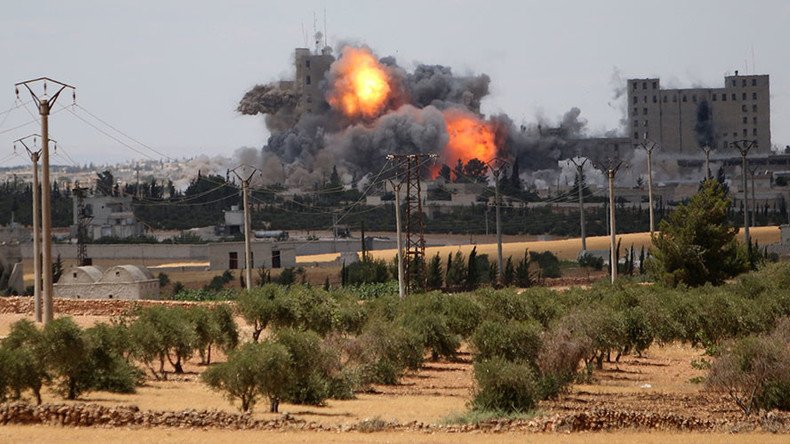 The US secretary of defense said the coalition will investigate civilian deaths following recent airstrikes near Manbij, Syria that targeted Islamic State fighters. Secretary Carter also said, "we have now momentum in this fight."
Defense Secretary Ash Carter's comments were made just one day after Western US-led coalition forces launched 30 airstrikes against Islamic State (IS, formerly ISIS/ISIL), causing the deaths of more than 100 civilians near the city of Manbij in Syria.
There were allegedly 44 children among the dead.
The Syrian Foreign Ministry has written to the UN blaming US and French warplanes for the deaths.
In his briefing on Wednesday, Secretary Carter responded to the outcry over the civilian deaths.
"We are aware of civilian casualties that may be related to recent airstrikes near Manbij city, in Syria, which is one of the last junctions connecting Raqqa to the outside world," said Secretary Carter. "We continue to do all we can to protect civilians from harm. Being scrupulously careful to avoid civilian casualties and being transparent about this issue is a reflection of the civilized nature of this coalition."
In discussing the US-led coalition's fight against IS, the defense secretary said, "We have now have momentum in this fight and clear results on the ground. There is momentum, but the stability in the regions lags behind."
Carter also said the US coalition military plan had three objectives.
"First is to destroy the ISIL parent tumor in Iraq and Syria. That's necessary but it is not sufficient," the Defense Secretary told reporters after meeting with defense ministers of 30 coalition countires. "As recent attacks remind us, ISIL safe havens threaten not only the lives of Iraqi and Syrian peoples but also the security of our own citizens.
He said the sooner IS is defeated in Iraq and Syria, "the safer our countries will be."
"The second objective is to combat ISIL metastasis everywhere they emerge around the world," he said. "And third, and most important, is to protect our homelands."
Carter said in January that the US-led coalition updated the comprehensive military campaign plan to accomplish the military aspects of the three objectives, and to hasten IS' defeat.
"Since then in play after play, town after town, from every direction, in every domain, our campaign has accelerated further squeezing ISIL and rolling it back towards Raqqa and Mosul," he added.
He said by isolating the two cities, "we are effectively setting the stage to collapse ISIL's control over them."
US and coalition defense ministers "reviewed and agreed on the next plays in our campaign which, of course, we won't discuss publicly yet."
Without discussing specifics of the "next plays" in the campaign, Carter said, "We are all going to have to do more."
President Barack Obama has decided to deploy an additional 560 troops to support Iraqi security forces in their attempt to retake Mosul. Carter was in Iraq last week and offered to share US expertise in countering improvised explosive devices (IEDs) with Iraqi security forces.
"The Director of our Joint Improvised Explosive Device Defeat Agency (JIEDDO) Mike Shields is in Baghdad today meeting with Iraqi officials to discuss this topic," said Carter.
Carter said from discussions that morning with coalition defense ministers "it was very encouraging" over what additional support was to be provided "from strike aircraft through to training and vital work in logistics, stabilization and other aspects."
"I can mention a few coalition countries that will be making new and additional contributions…France is sending the aircraft carrier Charles de Gaulle back to [the] region to carry out airstrikes against ISIL, Australia is committed to expanding their training of Iraqi police and border guards which will be vital for security in Iraq after the defeat of ISIL, the United Kingdom announced in recent weeks it will deploy more personnel to Iraq, adding more trainers and engineers to help the Iraqi Security Forces," he stated.
Carter said they are going to make sure their partners on the ground have what they need to "not only win the fight but also to hold and to rebuild and govern their territory."
The biggest strategic concern of defense ministers at the meeting was that the stabilization and governance efforts would lag behind the military campaign. Making sure there will be no lag "has to become a strategic priority," according to the secretary of defense, and he said it will be an important part of the discussion at the State Department on Wednesday.
You can share this story on social media: