Hundreds of Philadelphia airport workers stage sit-in over 'Fight for $15'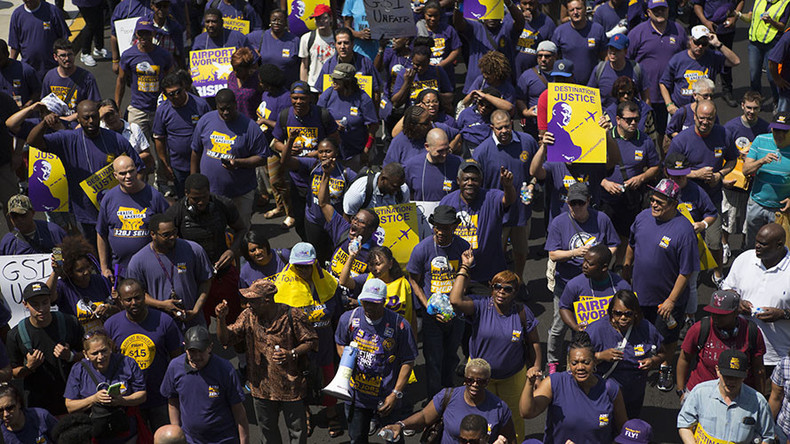 Just under six days before delegates descend on Philadelphia, Pennsylvania for the Democratic National Convention, hundreds of airport workers staged a sit-in and blocked traffic to protest in favor of a $15 per hour minimum wage.
The hundreds of security workers, baggage handlers, cabin cleaners and wheelchair agents, wearing the purple and yellow t-shirts affiliated with the Service Employees International Union, blocked several lanes of traffic near Terminal A West departures in a demonstration on Tuesday, demanding $15 per hour in pay.
Protesting under the hashtag #PovertyDoesntFly, workers chanted "I believe that we will win," "No justice, no peace," and "32Union, the mighty union, we are workers, mighty workers, airport workers."
Organizers told the Philadelphia Business Journal that the strike wasn't a statement about the Democratic Party, which added making federal minimum wage $15 an hour to its platform earlier this month, but instead to provide a "living example" to support the Democrats' commitment to a higher living wage. The federal minimum wage level has stagnated for years at $7.25 an hour.
"We have this case study a mile and a half away from the convention site," said Julie Blust, of the SEIU 32BJ union, which has contributed to the employees' organization efforts. "The workers made the decision not to stay hidden."
While the Democratic Party did amend its minimum wage platform, the final language advocated the wage increase "over time" and indexed for inflation. That was a compromise struck between presumptive nominee Hillary Clinton and Senator Bernie Sanders (I-Vermont), who made the $15 minimum wage a major plank of his presidential campaign. The compromise also came only after Sanders had dropped his opposition to the Trans-Pacific Partnership (TPP) trade pact and agreed to endorse Clinton, which he did in New Hampshire last Tuesday.
Last Tuesday, the hundreds of members of 32BJ-SEIU, which has backed the 'Fight for $15' campaign that has galvanized fast-food workers across the United States, voted to strike during the political convention in hopes of drawing attention from lawmakers and others who can make their case to Congress.
"This is the opportunity for the elected officials who will be in Philadelphia to hear firsthand accounts of what it's like to work at an airport," said Marc Goumbri, a spokesman for the Service Employees International Union that funds the wage campaign, told the Wall Street Journal last Wednesday. "The goal is to make sure their voices are heard and that their concerns are really being taken into consideration."
Workers are targeting major airlines but also airline subcontractors that employ the workers who generally do "low-bid subcontracting. Workers are demanding a pay increase and unionization without intimidation from their employers.
The workers recently won a pay increase guaranteeing a minimum $12 per hour under a city ordinance, Goumbri told the WSJ. The point now is to "make sure they have a path to $15," he said.