Planned 'Day of Rage' protests fail to materialize, with some exceptions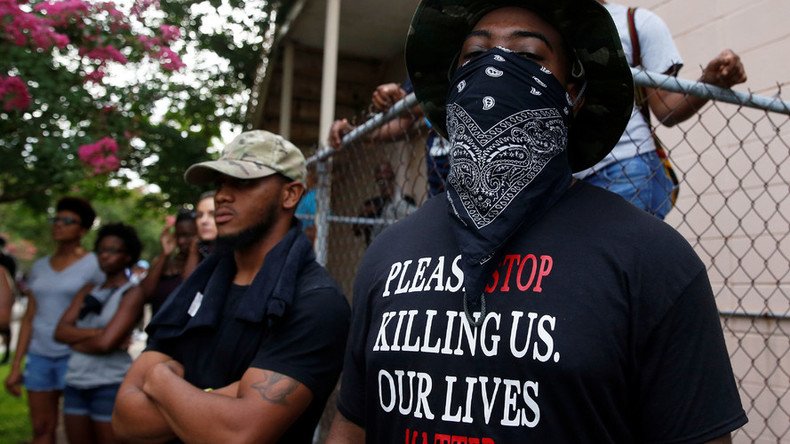 Police departments nationwide anticipated "Day of Rage" protests, following the announcement by an account claiming to represent the hacker group Anonymous. It called for 36 cities to participate in response to killings of civilians by police.
Despite the passion and compassion shown in recent days and weeks by people taking to the streets over killings of and by police, the hyped "Day of Rage" protests largely failed to materialize on Friday.
Instead, a #BashBack contingent of protesters, LGBT activists, took to the streets of New York City in solidarity with #BlackLivesMatter, at one point chanting, "Stonewall was a riot, queers don't deny it."
About 30 protesters rallied outside The Stonewall Inn, the first national monument dedicated to LGBT rights. They then marched to the LGBT community center on 13th Street.
There was also no Day of Rage protest happening in South Los Angeles' Leimert Park, as was promoted.
In Oakland, however, there were some who showed up with messages tying in to the Black Lives Matter movement and the call to action known as the Day of Rage.
The call for Friday, July 15 to be a day of action came on July 9 in a YouTube video by user TheAnonMessage. The authenticity of the video could not be verified.
In the video description, a link reveals the 36 locations where "a collective day of rage" is encouraged to happen.
It is also worth noting that the Twitter account YourAnonNews, also associated with the Anonymous hacker group, is denying the YouTube channel's authenticity.
The Dallas Police Department, which is on high alert following last week's sniper attack that left five officers dead, is preparing for a Friday protest, despite one not being confirmed, reports the Dallas Morning News.
Local businesses near Lafayette Square in New Orleans are advising employees to go home early to avoid any trouble, and New Orleans Police Department spokeswoman Dawne Massey said officers would respond if a protest materialized, according to the Advocate.
The Department of Defense is also taking the matter seriously, sending out a "threat advisory" this week "informing DOD personnel that a series of protests has been scheduled to be conducted across the United States on July 15, 2016," the New York Post reported.
In response to the announcement listing the St. Louis Arch as another protest site, the Scott Air Force Base in Illinois recommended "all SAFB personnel to avoid the Arch during this time due to potential protests and criminal activity," in a post on its Facebook page.
You can share this story on social media: