Wisconsin tornado warning issued as floodwater washes away harbor, chunks of road (PHOTOS)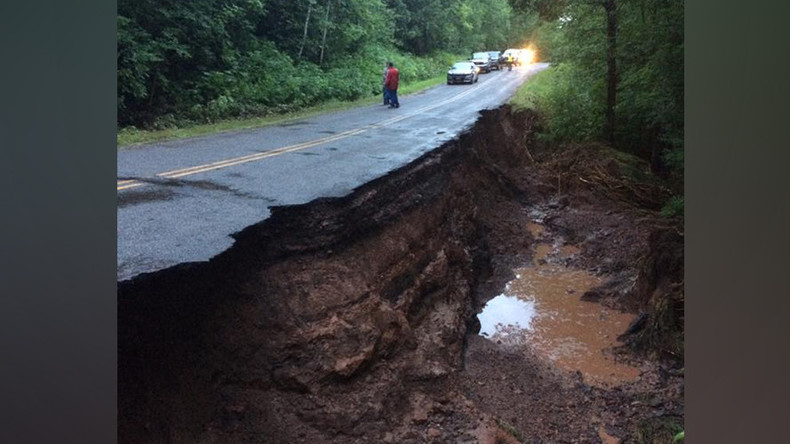 The people of Wisconsin are bracing themselves for further storm damage after heavy rainfall claimed one life and washed away large parts of major roads.
Sections of highways have been closed and residents left stranded after severe flash flooding hit parts of northern Wisconsin.
The flooding has so far caused disruption to US Routes 2, 53, and 63.
Portions of Wisconsin Highways 137 and 77 have also been damaged.
Two days of torrential downpours on Monday and Tuesday saw floodwater reach up to 12 inches high in some counties, including Ashland, Bayfield, Sawyer, Price and Iron.
The floods have claimed at least one life, NorthLand's News Center reported.
The death of Mitchell Koski, an elected member of the Iron County Board, is being attributed to the severe weather conditions. A police investigation into his death is ongoing.
According to the Wisconsin Emergency Operations Center, a rescue operation was underway Tuesday to bring 33 people stranded on Lake Superior's Michigan Island back to the mainland.
As of 10:30 a.m. local time, some 20 people had been picked up with no reports of injuries.
"For Wednesday, severe thunderstorms are expected between noon and 6 p.m. … The National Weather Service says the storm could produce large hail, damaging winds and threat of isolated tornadoes," the emergency department warned in a statement.
Images released by the Iron County Sheriff's Department show the aftermath of Tuesday's rainfall, with trees uprooted and raging gullies forming where tarmac roads used to be.
Damage to boats and infrastructure has also occurred at Saxon Harbor, just 6 miles from the town of Gurney.
Meanwhile, power company Xcel Energy WI is warning people to "stay clear" of the White River Hydro plant near Ashland because of the large volume of water gushing through the dam.