'Sure as heck' no one can deal with Iran, Boeing says after Hill blocks deal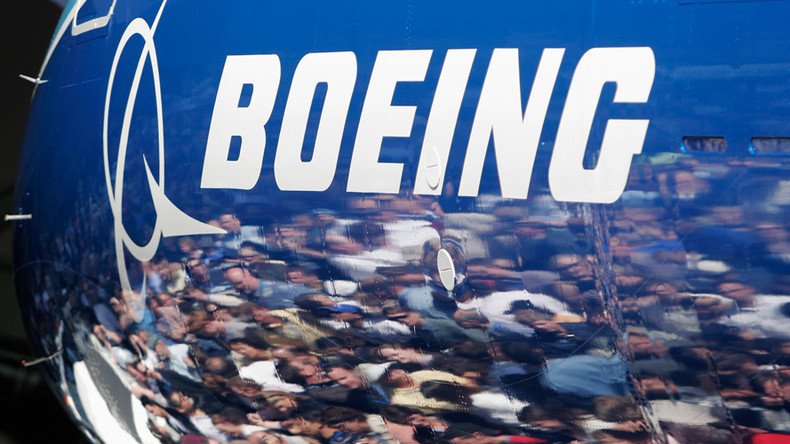 American aeronautics giant Boeing has voiced concern over a US legislative move passed earlier in the week that would block its $25 billion deal with Iran, saying that all other companies that have deals with Tehran should be scrapped of their contracts as well.
Last month Boeing signed a tentative agreement to sell jetliners to Iran after trade sanctions on Tehran were eased following a nuclear deal last year. According to Iranian Transport Minister Abbas Akhoundi, the country plans to introduce 737 and Boeing's newest 777-9 long-haul planes, worth $25 billion.
But on Thursday, the House of Representatives voted on two amendments to block Boeing's proposed sales of 100 aircraft to Iran. Opponents of the deal are worried that some Boeing aircraft parts could be pirated by Iran to be used in other aircraft.
"To give these types of planes to the Iranian regime, which still is the world's largest state sponsor of terror, is to give them a product that can be used for a military purpose," said Rep. Peter Roskam ( R-Ill), who sponsored the measures.
One of the measures adopted by US lawmakers prohibits the Office of Foreign Assets Control (OFAC) from using funds to authorize a license that would allow aircraft to be sold to Iran. Other legislation prevents US financial institutions from issuing loans to Iran for the purchase of any aircraft that could be used by the military.
Reacting to US lawmakers' move, Ray Conner, the chief executive of Boeing's commercial jetliner unit, told the media on Sunday, that if the measures adopted stand, other companies should be prohibited from dealing with Iran as well.
"If we're not allowed to go forward, then sure as heck no other US company should be allowed to go forward either, and that would be any US supplier to any other manufacturer," Conner said, as quoted by Seattle Times.
He said that Boeing's competitors also build planes with US parts, as Conner named Airbus, Bombardier of Canada; Embraer of Brazil; and COMAC of China.
Conner said Boeing has been "working under guidelines the US government has laid out," as he promised to continue "follow the lead of the government. But an attempt to block the Iran sale, Conner added, is "between Congress and the (Obama) administration."
Many people have been seeking a fresh start in relations with Iran after world powers signed a nuclear deal with Iran in July 2015. Under the deal Tehran agreed to make its nuclear program more transparent in exchange for the lifting of economic sanctions imposed by the UN, the US and the EU.
The deal was strongly opposed by some parts of the US political establishment. And even since it was adopted a hoped-for thaw in relations didn't come, as both sides continued to view each other with suspicion.
Unless the US government goes on and kills the Boeing deal, it would mark the first time that new American-made airplanes enter the Iranian market since following the 1979 Islamic Revolution.
Before it the Iranian government had close relations with Washington and regularly purchased American military and civilian hardware. Some of it is still in service despite Tehran's problems with servicing and repairing US equipment.
You can share this story on social media: