Vigils held nationwide for 5 Dallas officers fatally shot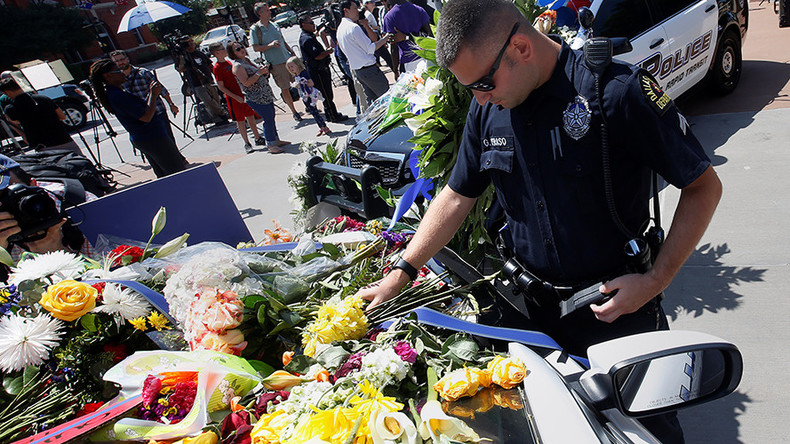 A vigil at Thanksgiving Square in Dallas attracted thousands of mourners for the five police officers killed in Thursday night's shooting ambush that also left other officers and civilians wounded. Similar observances are happening across the country.
Addressing the massive crowd on Friday afternoon, Dallas Mayor Mike Rawlings called for unity in the city as he acknowledged that racial tensions are continuing to divide the nation. Despite ongoing Black Lives Matter protests, Rawlings said that it is time to defend the "99 percent of officers who do their job professionally."
As people prayed, Dallas Police Chief David Brown took to the podium to thank the city of Dallas for its support after the "well-planned, evil tragedy."
READ MORE: Veteran and newlywed among officers killed in Dallas
"In the police profession, we're very comfortable with not hearing 'Thank you,' from citizens especially who need us the most," Brown said. "So today feels like a different day than the days before this tragedy."
"Dallas is a city that loves," Brown said, adding that that the DPD will not rest until "everyone involved" in the shooting is brought to justice.
A memorial laid with flowers was placed outside the headquarters of the Dallas Police Department on Friday. People arrived at the area to place bouquets on top of two police cars while offering their condolences to the members of the force.
Some members of the force had tears in their eyes when they were approached by the public, offering their condolences.
Houston police also held a vigil at their headquarters where they were joined by clergy in remembering their colleagues.
Just 25 minutes east of downtown Houston, in Galveston Bay, people organized a United We Stand memorial.
In Washington, DC, people gathered with candles outside the Department of Justice, while others rallied outside the White House against police killings.
Over in Louisville, Kentucky, people have also gathered outside the city's police headquarters to show respect to the victims of Thursday night shooting rampage.
Earlier in the day, the city held a larger vigil with a moment of silence. It was attended by Louisville Mayor Greg Fischer, Metro Police Chief Steve Conrad and members of the Louisville Metro Police Department.
READ MORE: Not just Dallas: Attacks in three states target cops for two days in row
In Richmond, Kentucky, the flags were lowered to half-staff as people gathered hands to pray for the Dallas Police Department. The vigil was organized by the wife of a Richmond officer who has lost a loved one in the line of duty.
Similar vigils has been held at the Corpus Christi, Texas Police Department headquarters.
You can share this story on social media: