Hillary Clinton announces Sanders-like plan for free college education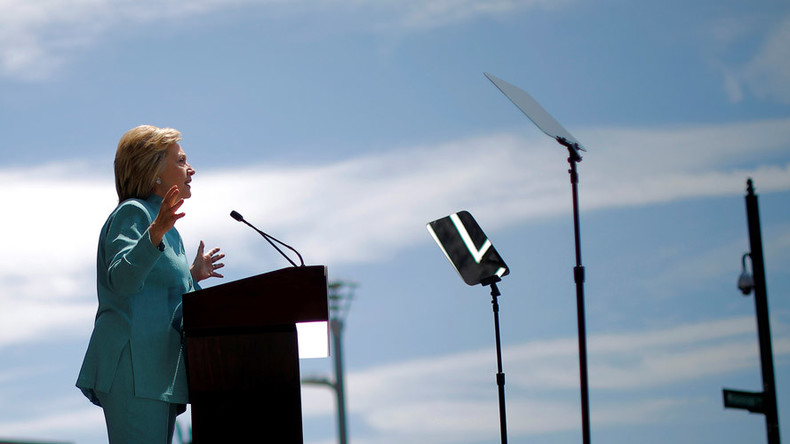 Hillary Clinton has proposed a plan to eliminate college tuition at public universities for families earning under $125,000 a year. The presidential candidate is taking a cue from rival Bernie Sanders, who made free college a central part of his campaign.
In a Wednesday announcement on her campaign website, Clinton said that the plan, called the "New College Compact," would be phased in over the course of five years. However, families that make under $85,000 a year would instantly have access to free tuition at public, in-state universities and colleges.
The threshold for free tuition would increase by $10,000 annually before finally bringing the qualifying income to $125,000 after five years. This would bring free college tuition to 80 percent of American families, the website said.
The presumptive Democratic nominee also announced a plan to use executive action to give a three-month moratorium to those with student loans from the federal government.
"American families are drowning in debt caused by ever-rising college costs, and it is imperative that the next president put forward a bold plan to make debt-free college available to all," Clinton said. "My New College Compact will do just that – by making sure that working families can send a child or loved one to college tuition-free and by giving student debt-holders immediate relief."
Free tuition at public colleges and universities was originally a pillar of the presidential campaign of Senator Bernie Sanders (I-Vermont), though it does not go quite as far as his plan of abolishing tuition for all families.
Sanders praised Clinton for moving closer to his platform, saying that such a plan would have a "profound" impact on the US.
"I want to take this opportunity to applaud Secretary Clinton for the very bold initiative she has just brought forth today for the financing of higher education." Sanders said in a statement. "This proposal combines some of the strongest ideas she fought for during the campaign with some of the principles that I fought for. The final product is a result of the work of both campaigns."
"Let me be very clear. This proposal, when implemented, will revolutionize the funding of higher education in America, improve the economic future of our country and make life immediately better for tens of millions of people stuck with high levels of student debt," Sanders continued.
Sanders has stayed in the race despite the near certainty that Clinton will clinch the Democratic nomination at the convention in Philadelphia, hoping to put pressure on the Clinton campaign to move the party's platform further to the left on economic issues.
You can share this story on social media: